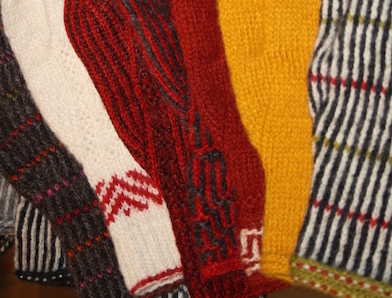 ---
Two-end knitting, or tvåändsstickning – is an old Swedish knitting technique using two threads, twisting them, to create a tight and strong knitting. In this class you will learn how to knit two or three coloured patterns all over the surface, as borders or single figures. In Dalarna, a province in Sweden, nearly every small village has its own way to make patterns. You get inspiration from some of the knitted pieces in the folk costumes from Dalarna, like mittens, stockings and knitted sleeves.
Skills required: basic knowledge in knitting two-end knitting.
Materials: Yarn supplied but please bring double pointed needles 2.5mm in set of 5 needles.  Cost includes special tvåändsstickning yarn.