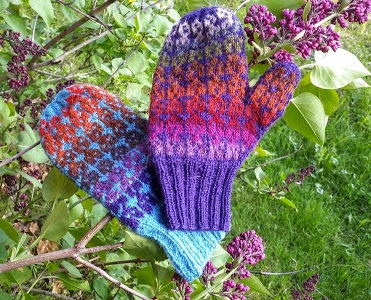 ---
With Vottelauget (The Mitten Guild) Tori Seierstad has published the Norwegian mitten book "Eventyrvotter". In this class she teaches the thumb gusset Selbu style and "sore" thumb (a thumb that sticks out to the side of the mitten), and answers your questions about mitten knitting in general.
The mitten pattern "Mittens for good neighbours" is made specially for this class.
Skills required: Students should be able to work small circumferences in the round using dpns or magic loop. Please bring needles 2.5 or 3mm (or needles to give correct gauge). Participants are asked to work the mitten cuff before the workshop: All mittens have a 48 sts wide, k2, p2 ribbed cuff, appr. 3 inches long (7.5cm). Gauge for the body of the mitten is 30 sts and 34 rounds to 10 cm / 4 inches over colourwork pattern for smaller size, and  28 sts and 32 rounds for larger size.
For an additional price of £15 payable on the day of the class the book "Eventyrvotter" is included, with a download link to get 14 of the 20 patterns in English.