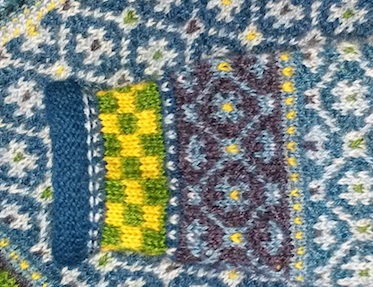 ---
An opportunity to investigate stranded knitting (Fair Isle) the Norwegian way with Hadewych, an experienced tutor. Using two colours (and occasionally three…) we will hold both threads in the left hand and control the carry threads on the back– the Norwegian way. Hadewych will discuss set in sleeves, measuring, and how to sew a steek before cutting. Take a good look through the example pieces she will bring, and end the day with a problem solving session.
Materials: Bring 3mm needles, short dpn's or circular.
Yarn is included.
As lunch is included in your class please contact us with any special dietary requirements.
Further info from shetlandhandspun@btinternet.com .
Hadewych is a qualified textile teacher who has been teaching since 1978 in the Netherlands. She has studied extensively in Norway, spending a whole year there learning traditional Norwegian knitting. She is always increasing her knowledge by studying under masters of other countries including Estonia. She is in demand as a teacher in Europe and revered for her knowledge of various techniques including Norwegian colour work, double knitting, Marlisle, Mor Astrup and Estonian borders.
Hadewych receives praise from highly skilled locals and visitors, we are lucky to have her return to teach more classes. Her exciting sense of colour is inspiring – you will not regret joining any of Hadewych's classes.
Materials: Bring 3mm needles, short dpn's or circular.
Yarn and lunch is included.
Skills required: Must be able to knit and have some experience in 2 colour stranded knitting.
Transport: Buses leave from Viking Bus Station (Service no.6, at 9.00) regularly travelling to Sandwick (a 6 minute walk to the Visitor Centre). We suggest you ask the driver to let you off by the Carnegie Hall. Folk regularly travel from Lerwick, with lifts and car sharing usually available especially for the return journey to Lerwck. If necessary we can offer a lift from Hoswick to Lerwick. Please email us if you need assistance with transport.
For bus timetable – www.zettrans.org.uk/bus/BusTimetables.asp
www.zettrans.org.uk/site/assets/files/1084/south_mainland_printable_version.pdf