Date:
03 October, 2019
---
Cost:
£50.00
---
Time:
10.00 - 13.00 or 14.00 - 17.00
---
Location:
Old Scatness Broch & Iron Age Village, Sumburgh
---
Materials:
Included
---
Tutor:
n/a
---
Transport:
Not included
---


---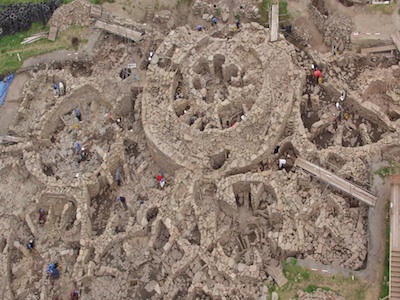 ---
A chance to try nalbinding, also known as 'Viking knitting', a technique used to make a sock found in Viking York and textiles from elsewhere in Viking Scandinavia. Evidence from ancient Egypt shows that it predates knitting and crochet by some 2000 years.
You will also have the chance for a guided site tour and to see our textiles room and reconstruction buildings.
Join Shetland's Archaeology Team, Val Turner, Chris Dyer and Dot Redshaw for a morning or afternoon exploring the past.
Leave with a new skill as well as needle, wool, and instructions
No previous experience expected.
Transport: There is a bus which leaves from the Viking Bus Station in Lerwick which stops at the gate on request, arriving 9.25 and and 14.25.
NB: teatime bus back to Lerwick departs 17.10.
Refreshments included.