Date:
03 October, 2019
---
Cost:
£50.00
---
Time:
10.00 - 16.00
---
Location:
North Ness Public Hall, Ulsta, Yell
---
Materials:
See description
---
Tutor:
Sandra Williamson Textiles Services
---
Transport:
See description
---


---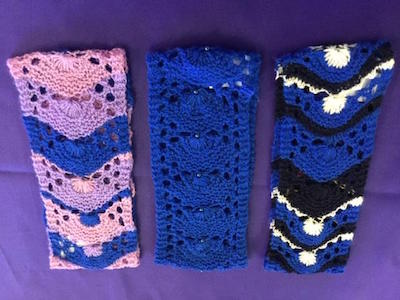 ---
You will learn the art of knitting the cockleshell lace pattern, this is a well known traditional Shetland lace pattern. You will learn the way that Sandra's granny taught her. You will learn how to knit using beads also using colours and shading your colours, also hand finishing of your headband, and how to dress it too.
You will be given written instructions for both headband and scarf (gravit), once you have mastered the making of the shell, you will be able to knit either. The headband should easily be completed in one day.
Materials: Sandra suggests the following needles:
For the headbands, needles of 2.75 or 3.00mm
For the scarf, needles of 3.5 or 4.00
Lace weight yarn or similar weight can be used for both styles
But the art of learning the cockleshell pattern could be tried out using different weight yarns and needles, if you prefer to use what yarn and needles that you have come with, that is fine.
There will be a small selection of yarns that can be used if your yarn is not suitable and also a few spare needles if required Beads will be provided.
A light lunch of tea/coffee, sandwiches etc will be provided and is included in the cost.
Transport: The Public transport bus will leave from the Viking bus station in Lerwick at 07.50 to arrive in Toft at 9.00, ferry leaves from Toft at 09.15. I will meet you at the Ulsta ferry, where you can be collected or follow if you have your own transport. You will return on the 16.30 ferry from Ulsta, to catch waiting public transport bus from Toft at 16.56, You will reach Lerwick at 18.05.