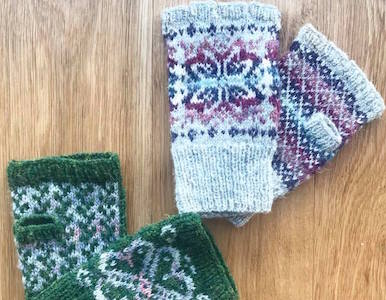 ---
Use the templates provided to design your own pair of gloves. We will be discussing the functionality of each section to create a practical design. We will cover the points to consider for colour and motifs on both sides of the glove, as well as finger styles.
Homework required: Cast on 56 stitches on 2.25mm needles and join to knit in the round taking care not to twist stitches. Knit 1, Purl 1. Repeat across round for 20 rows. (Terri suggests using grey or neutral colour as you will be knitting your newly designed gloves onto this section).
Materials: Please bring 3mm needles and a darning needle.