Date:
04 October, 2019
---
Cost:
£125.00
---
Time:
09.45 - 16.30
---
Location:
Hoswick Visitor Centre, Hoswick, Sandwick
---
Materials:
Included
---
Tutor:
Niela Kalra
---
Transport:
Not included
---


---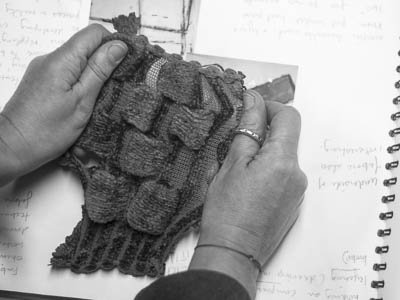 ---
Textile and yarn designer Nielanell is passionate about original, strong design. If we design with integrity, our final product has far more value. We all struggle, however, in finding that path which leads from our conceptual inspirations to a final product. Niela has devised a simple but effective system that enables us to make something concrete out of our ideas which has meaning and intention. Whether designing for yarn, textiles, or any other media e.g. woodwork, gardening, etc. the same process is used. Colour, texture, scale and composition – these words need not be intimidating once we learn how to use them positively.
Join Niela on a fun but thought-provoking journey using playful and conceptual design studies and tutorials. In the afternoon each participant will go on to design his or her own garment/textile which is guaranteed to be highly original. Niela will assist participants individually with their own ideas.
Please feel free to contact her with any queries you may have about this class. Please note this class is not about designing using stitch counts, swatches etc. and/or resizing. Niela is also willing to mentor students afterwards. She has run this class a number of times now as she consistently receives very strong feedback.
Skills required: This class is suitable for anybody interested in design whatever the making process.
Transport: If driving south from Lerwick, take the 'South Road' and approximately 14 miles south of Lerwick you will see on the right hand side signs to Sandwick. Travel through Sandwick, all the way through to the satellite village of Hoswick. The studio is the first white building on the left side of the road after the Old Gospel Hall, just before the Hoswick Knitting Mill. Buses leave from Viking Bus Station and regularly travel to Sandwick (a 6 minute walk to the Nielanell Design Studio and the Hoswick Visitor Centre). We suggest you ask the driver to let you off by the shop or Hall. Folk regularly travel from Lerwick, lifts and car sharing is usually available. Please email/phone us on 01950 431413 if you need assistance with the bus timetable, or if you need any other assistance.