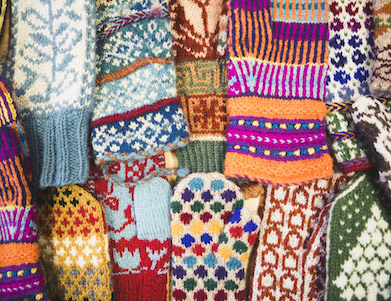 ---
With Vottelauget (The Mitten Guild) Tori Seierstad and Wenche Roald have published the Norwegian mitten book "Eventyrvotter" (Fairy Tale Mittens).
In this class they teach the participants to design their own, colourwork mittens. They will help the students calculate stitch and row count from different gauges. During the class the students will make their own mitten pattern with their personal choices of cuff, thumb style, top decreases and colourwork pattern.
Homework: work a small swatch with your chosen yarn and needles to decide gauge before class. The swatch should be worked as you plan to work the mittens, that is on dpns or magic looping, as you prefer. If you have knitted a mitten (or a similar item) recently using the same yarn and needles, you can measure on that mitten. Most mittens are 10cm or less across the body, so measure over 5cm, and multiply by 2 to get gauge over 10 by 10cm.
Materials: please bring pencils, colour pencils and an eraser.