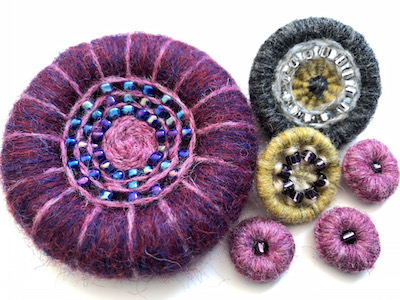 ---
Add an extra bit of sparkle to your hand knits with beaded Dorset Buttons made from Shetland wool.
Join Tania of TJFrog to learn about the techniques and history of the heritage craft, Dorset Button making. Experiment with wool weights, stitches, designs and ways of adding beads to create your own beaded buttons or shawl brooch.
Materials: Yarn supplied.
Optional – bring along a knitted or textile project, e.g. cardigan, shawl, hat that you would like to embellish with Dorset Buttons. If you would like to knit a basic small brooch base to put a Dorset Button on, please bring along knitting needles sizes from 3mm to 4.5mm.