Date:
02 October, 2019
---
Cost:
£50.00
---
Time:
10.00 - 13.00
---
Location:
Shetland Museum and Archives, Hay's Dock, Lerwick
---
Materials:
Included
---
Tutor:
Tania Ashton Jones
---
Transport:
N/A
---


---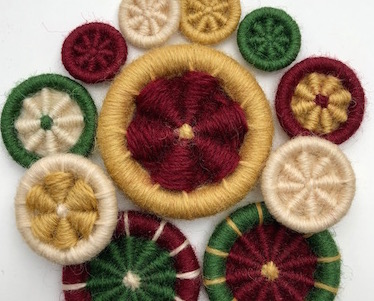 ---
This is an additional class. Tickets will go on sale on Tuesday 16 July at 14.00 BST.
Join Tania of TJFrog to learn about the techniques and history of the heritage craft, Dorset Button making. Using rings and Shetland wool you'll start with the four basic techniques of casting, slicking, laying and rounding to make the famous Crosswheel design. With these basic techniques mastered there are endless designs and possibilities of how to use them!
Materials included.
Dorset Buttons are a great way to use up those odd ends of yarn to add a personal finishing touch to embellish your handmade projects, revitalize an old garment or adorn a bag, hat or cushion. Tania will bring along samples of her work to show you how to incorporate Dorset Buttons into your own hand knits & creative projects.
Brought up in Dorset & now living on the Isle of Skye, Tania is a Dorset Button maker, hand knitter and teacher. Her aim is to contribute to keeping alive the traditional skill of Dorset Button making, a cottage industry dating back to the 1600s. It supported small Dorset rural villages & towns, with over 30 different designs adorning ladies dresses & gentlemen's waistcoats. The introduction of the Button Machine at the Crystal Palace Great Exhibition in 1851 saw the demise of the industry, with many people left in poverty and emigrating to Australia & Canada. With a focus on predominantly using yarns, spun or hand-dyed in Scotland, Tania makes buttons, accessories & jewellery using Dorset Button techniques, while choosing a design to best showcase the nature of the yarn.