Date:
03 October, 2019
---
Cost:
Free (No booking required)
---
Time:
13.30 - 16.30
---
Location:
Hoswick Visitor Centre, Sandwick
---
Materials:
N/A
---
Tutor:
N/A
---
Transport:
Not included
---


---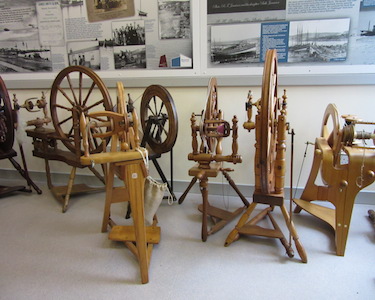 ---
Bring your knitting, spinning or wheel problems, let's work them out together – or just come hang out in good company. The designated drop-in area will be available all week with a library, wheels and fleece to play with.
Elizabeth will be in the drop-in area on Tuesday morning and Thursday afternoon, other tutors may be available at times.
Stay for coffee or lunch, see Elizabeth's handspun yarns, take Niela's tour, visit Niela's eclectic studio or Laurence's knitwear factory – lots happening at Hoswick.
Local knitters and spinners with a wealth of information are often here to entertain and share their Shetland expertise.
Transport: Buses leave from Viking Bus Station (Service no.6, from Lerwick) regularly travelling to Sandwick (a 6 minute walk to the Visitor Centre). We suggest you ask the driver to let you off by the Carnegie Hall. Folk regularly travel from Lerwick, with lifts and car sharing usually available especially for the return journey to Lerwick.
For bus timetable – www.zettrans.org.uk/bus/BusTimetables.asp