Date:
02 October, 2019
---
Cost:
£42.00
---
Time:
13.30 - 16.30
---
Location:
Market House, 14 Market Street, Lerwick
---
Materials:
Included
---
Tutor:
Deborah Gray
---
Transport:
Not included
---


---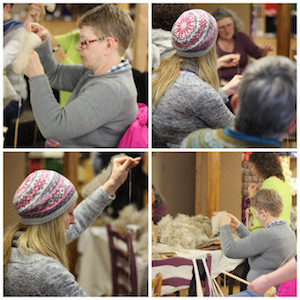 ---
Please note there is a mistake in the printed programme. This is a three hour class that takes place from 13.30 – 16.30.
An ancient, portable and inexpensive tool, a drop spindle is the ideal way to learn to spin your own unique yarns. With the spindle we can slow the spinning process right down into its different stages while learning. Skills are transferable to the spinning wheel.
Deborah has over 35 years' experience of teaching this relaxing and satisfying craft.
Materials provided.
If you attended Deborah's workshop 'Fleece Preparation for Hand Spinning' in the morning this is your chance to start spinning your prepared fibres straight away.