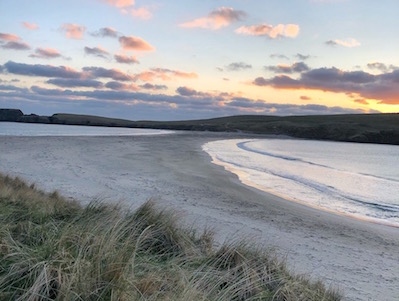 ---
Explore the Bigton area with local tour guide & crofter James Tait in a small group tour. See colourful Shetland sheep close up on the Tait family croft with the opportunity to see and touch fleeces from the 2019 clip. Meet native Shetland ponies at Bigton Farm. The tour will visit St. Ninian's Isle (connected to the mainland via a sand tombolo or causeway) where silver treasure dated to 800AD was discovered in 1958. Hear local folklore & stories woven into the tour.
The tour starts from the Bigton Community Hall which is being used from 1st to 4th October as a venue with workshops, lunches and an exhibition. Why not come early and spend time at the hall before the tour for "loops and lunches" from 12.30pm. The hall is also open on Thursday evening with a late night exhibition opening from 18.00 to 20.30. On Friday evening it hosts a film night and meal entitled "A crofter's Life in Shetland" starting at 1800 and is a ticketed event.
Transport: Meet at Bigton Community Hall. If coming by car from Lerwick it is a 25 minute drive south. Take the A970 towards Sumburgh, at Channerwick turn right onto the B9122 to Bigton. Take first right into Bigton and follow signs for the hall. If coming by bus take the number 6 to Sumburgh leaving Lerwick 13.30, get off at Channerwick 14.06. Please emai lJames on info@island-trails.co.uk to arrange pick up from Channerwick. (Alternatively take the 12.00 bus from Lerwick, enjoy lunch and exhibition etc at the Bigton Hall). The tour will end in time for anyone wishing to return to Lerwick by bus, leaving Bigton 17.20.