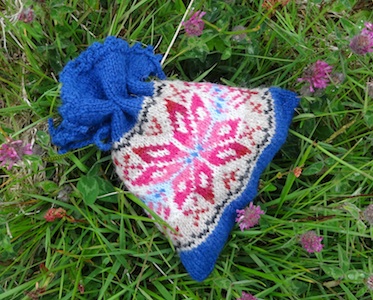 ---
Make your own Fair Isle style pouch bag. An opportunity to practise blending colours, try a knitting belt and knit with 2 colours. You will learn the techniques of the traditional "star and tree" yoke pattern in circular knitting style. Giving you the skills needed for knitting a yoke jumper or cardigan.
Join Shetland knitter Janette Budge in using traditional Fair Isle yoke techniques to begin making a small pouch bag. Hear of the knitting way of life, 40 years ago from her and her family's experience.
Homework: Before class cast on 88 stitches using 2ply jumper weight or 4ply yarn and knit 8 rows circular. Do not cast off. Other colours for the pattern will be supplied in the class.
Skills required: Able to knit using 2 colours in the round
Materials: Please bring 3-4 DPNs or circular needles, size 3 – 3.5mm and scissors.
Transport: Service Bus No. 6 from the Viking Bus Station, Lerwick to Channerwick junction. Collection from Channerwick by prior arrangement if required.
Light lunches will be on offer from the hall committee at an additional cost. Afternoon teas and knitting exhibition also on display. (See separate listing)