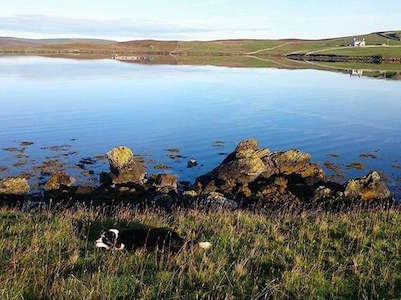 ---
Join a member of the Flock Book Society on this half day croft tour. Begin with a short visit to Gremista Farm, Lerwick and hear from crofter Eric Graham and see his top quality white flock sheep being gathered by border collie dogs.
From here, head north east to the stunning location of Lunna in Vidlin and see a traditionally run family farm with Flock Book Rams, a beef herd, goats and poultry.
The family is keen on maintaining traditions such as butter and cheese making as well as an old Shetland dish called Kirn milk with the raw milk from the farm.
The family also keeps two goats which are useful for supplying milk to any orphan lambs at lambing time.
You may recognise the name Lunna, as this was the station from which the 'Shetland Bus' ran from in May 1940 before moving its headquarters to Scalloway in 1942.
You will see Shetland ponies and various poultry including chickens, ducks, turkeys, guinea fowl and a peacock.
Lunch is included at the Vidlin Hall where there will also be a display of Shetland fine wool competition prizewinning fleeces and local arts and crafts to buy (cash only).
Wear clothing suitable for the outdoors.