Date:
29 September, 2019
---
Cost:
£60.00
---
Time:
09.45 - 12.45 or 13.30 - 16.30
---
Location:
Hoswick Visitors Centre, Hoswick Sandwick
---
Materials:
Included
---
Tutor:
Nielanell
---
Transport:
Not included
---


---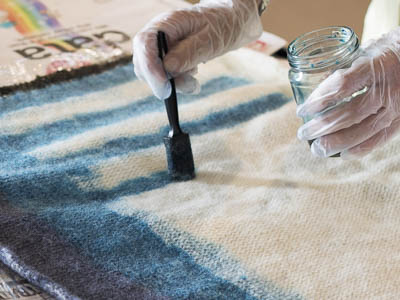 ---
Let your imagination go wild – design and paint your own blank which has been pre-knitted locally using beautiful Shetland yarn with Nielanell, textile designer (www.nielanell.com). It's great fun working out just how the positioning of the painting on your canvass will affect the final yarn. You can even incorporate special secret messages! Once the dye is set, re-ball your masterpiece and knit into a pair of matching socks, mittens or that special lace shawl. Become a yarn designer for (half) a day…
Materials: Materials included. Email Niela at info@nielanell.com with any questions.
Tap into Nielanell's secret weapon – colour. She will ensure that any fears you may have will disappear.
Niela started out life as a criminal defence lawyer. A keen dyer and spinner, Niela started leading workshops at the weekends. Eventually realizing she had another calling, she went back to art school and re-qualified in textile design. Now designing under her own label, Niela's secret passion remains in dyeing and spinning ridiculous yarns.
Best known for her vibrant and unexpected colour combinations, Niela's distinctive knit can now be found all over the world. She designs both the textile and the clothing. The key to her success is her insistence on making highly original pieces which reflect what is to her, the essence of Shetland. Niela is also renowned for sharing her knowledge and integrity in design processes during her stimulating workshops.
Transport: Buses leave from Viking Bus Station (Service no.6, at 9.00, 12.00) regularly travelling to Sandwick (a 6 minute walk to the Visitor Centre). We suggest you ask the driver to let you off by the Carnegie Hall. Folk regularly travel from Lerwick, with lifts and car sharing usually available especially for the return journey to Lerwck. If necessary we can offer a lift from Hoswick to Lerwick. Please email us if you need assistance with transport.
For bus timetable:
www.zettrans.org.uk/bus/BusTimetables.asp
www.zettrans.org.uk/site/assets/files/1084/south_mainland_printable_version.pdf