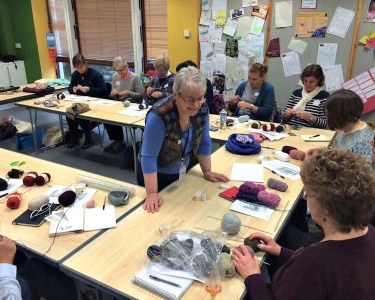 ---
Participants are shown yoked garments and a selection of vintage yoke patterns cut from worn out garments to help understand the construction. During the class you will knit a small section of yoke to try colours and to understand the shaping. The sample is knitted flat (using 'brak an eke' method), with right side facing at all times.
There will be a handout which gives instruction for knitting a yoked jumper.
Homework: please bring to the class one single colour piece of knitting, worked as follows:
Cast on 40 stitches in jumper weight yarn on 3mm needles. Work 4 rows of K1, P1 rib. Work one increase row: *K2, m1, K2, repeat from *. You should now have 50 stitches. Purl 1 row. Do not cast off the stitches.
Homework can be knitted on either circular, or straight 3mm double pointed needles and any method of making a new stitch can be used.
Materials: Yarn will be supplied. Please bring 3mm double pointed needles or circular needle. Please also bring a little of the yarn used for homework, blunt needle, camera, notebook and pen.
Skills required: Ability to knit. Advantageous to be able to knit with 2 colours in a row.