Date:
02 October, 2019
---
Cost:
£90.00
---
Time:
10.00 - 17.00
---
Location:
Shetland Museum and Archives, Hay's Dock, Lerwick
---
Materials:
See description
---
Tutor:
Rachel Hunter
---
Transport:
Not included
---


---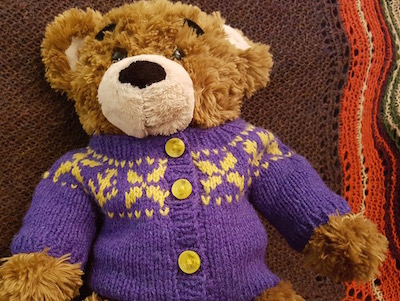 ---
In this class you will learn to knit a teddy bear's yoked cardigan in the traditional Shetland way – in one day!
Join Rachel Hunter to learn all about the construction of traditional Shetland yoked garments. You will also be introduced to some key skills using Fair Isle knitting, seeking (cutting your knitting), button holes, and picking up stitches.
Homework: In order to complete the cardigan in one day you will be required to do some work prior to the class. Information will be sent out to participants well in advance of the class.
Materials required: participants must being 3 balls of Jamieson's Double Knitting Yarn – 2 in a main colour (for the body and sleeve) and 1 in a contrasting colour for the yoke. Use your preferred needles and method for knitting int he round. You will need 3.5mm and 4mm needles. You are also required to bring a long needle for picking up stitches (2mm or 2.5mm). Please also bring 4 small buttons, a pencil, eraser, scissors, a tape measure, 4 stitch markers, waste wool for holding stitches (or stitch holders) and a tapestry needle for double knitting yarn. If you require reading glasses please bring them along with you.