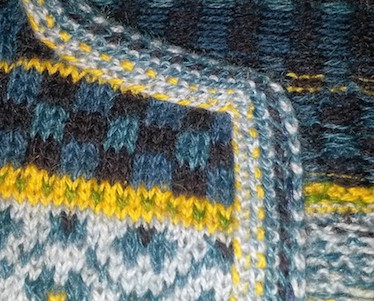 ---
A rare opportunity to learn the skill of knitting intricate Estonian borders. Hadewych studied under the renowned Estonian designer, Riina Tonberg and will pass on this knowledge with Riina's blessing. Knit these traditional and exciting edgings which you can use in fresh and innovative projects. Estonian borders are beautifully intricate, a wonderful finishing touch on any garment. Don't miss this opportunity to learn new ways of crossing knitting borders.
Lunch is provided, please contact us with any special dietary requirements.
Hadewych is a qualified textile tutor from the Netherlands. She has studied extensively in Norway, learning traditional Norwegian knitting, and is always increasing her knowledge by studying under masters of other countries including Estonia. She is revered for her knowledge of various techniques including Norwegian colour work, double knitting, Marlisle, Mor Astrup and Estonian borders.
Hadewych receives such praise from highly skilled locals and visitors, we are lucky to have her return to teach more classes. Her exciting sense of colour is inspiring – you will not regret joining any of Hadewych's classes.
Materials: Bring knitting needles, circular or short, size 3.00mm. Yarn is provided.
Homework: Using a 2ply yarn, such as Jamieson & Smith's Jumper yarn or Jamieson's Spindrift. Knit a square of 15 by 15 cm in stocking stitch.[knit forwards and purl backwards] Cast off, not to tightly, and take it with you to the class with the 2 dp needles you used or a circular needle 40 cm length.
Skills required: An intermediate to advanced class. Students must be able to knit and have some experience in 2-colour stranded knitting.
Transport: Buses leave from Viking Bus Station (Service no.6, at 9.00) regularly travelling to Sandwick (a 6 minute walk to the Visitor Centre). We suggest you ask the driver to let you off by the Carnegie Hall. Folk regularly travel from Lerwick, with lifts and car sharing usually available especially for the return journey to Lerwck. If necessary we can offer a lift from Hoswick to Lerwick. Please email us if you need assistance with transport.
For bus timetable – www.zettrans.org.uk/bus/BusTimetables.asp
www.zettrans.org.uk/site/assets/files/1084/south_mainland_printable_version.pdf