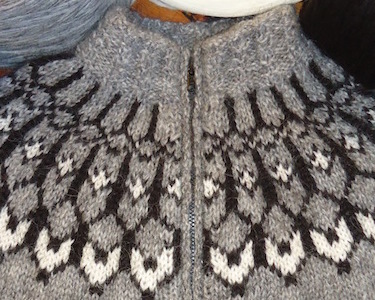 ---
"Lopi" is the Icelandic word for washed and carded wool yarn ready to be spun.  The Þingborg Lopi is produced exclusively for our wool centre from specially selected premium lamb's wool. The Icelandic tradition of knitting directly from the lopi instead of spinning it first is around 100 years old.  Lopi garments are exceptionally light, warm, and soft, and suitable in any weather.  Many do not know how to knit from lopi since this requires some technique and knowledge of Icelandic wool.
In this class you will be taught the basic construction in designing and knitting a classic Icelandic jumper from lopi. After this class participants will be able to knit a lopi sweater of their own and even design one.
Materials required: Please bring 4mm, 5mm or 6mm circular needles (60-80cm long). Lopi yarn will be provided.
Skills required: Some practice in stranded (Fair Isle) knitting, flat and circular would be beneficial.