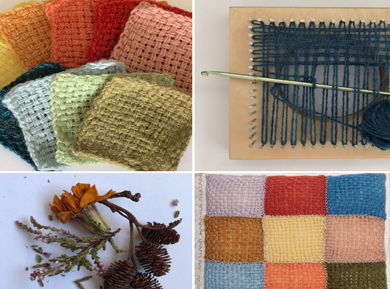 ---
We will begin the class by talking about native plants of Shetland, and other plants growing in the dye garden, that can be used for dyeing wool. Bunchy will talk about the dye process and samples of naturally dyed wool will be shown along with various dried dye plants.
Handouts will be provided with the information and photos.
After a discussion there will be a short break for tea/coffee.
The rest of the session will involve learning how to use the pin loom to make small, evenly woven squares using naturally dyed wool.
Students will each be making 18 squares dyed using 9 different dye plants. The goal will be to each make a small cushion showing the 'Colours of Shetland' using naturally dyed wool. The squares and cushion may not be completed in class so all materials including a pin loom and hook, dyed wool in various shades and handouts will be available to keep and take home. (The actual cushion will not be provided.)