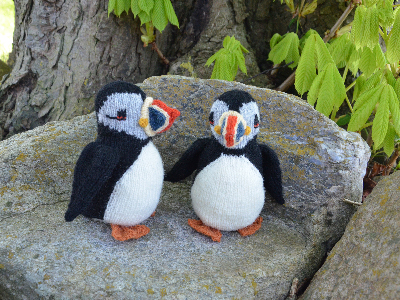 ---
Kastaniestrik have designed a puffin especially for Shetland Wool Week that you will be able to knit in this class.
Knitwear Designer, Tina Vejlo Andersen often creates small adventurous animals, characters and things with a high level of finesse, creativity and humour.
During the making of the puffin, we will work with different techniques. To shape the body we will use, intarsia knitting and several types of increases and decreases.
For the head and beak fair isle knitting is used and you will learn how to knit a pleat used to form the beak.
Materials: The puffin pattern and yarn from Jamiesons of Shetland will be provided. Please bring 5 double pointed needles size 2½ – 3mm, two needles size 2½ – 3mm. Also bring scissors and a tapestry needle.
Skills required: Know how to knit basic Fair Isle and Intarsia and how to work in rounds on double pointed needles. Know how to increase and decrease.