Date:
30 September, 2019
---
Cost:
Free
---
Time:
14.00 - 14.45
---
Location:
Nielanell Design Studio, Hoswick, Sandwick
---
Materials:
N/A
---
Tutor:
Niela Kalra
---
Transport:
N/A
---


---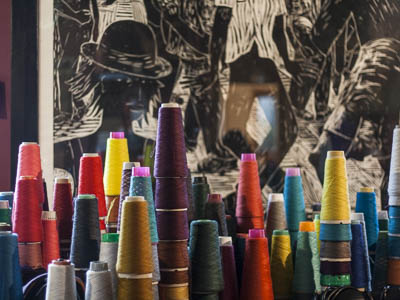 ---
An informal tour of Niela's studio and workshops. We chat about the challenges and benefits of designing and making, and of having an art practice in a small rural Shetland community. We see and discuss the design processes and development, and have a peek at the machinations behind the scenes by touring textile, glass and print studios.
In her own design practice Niela endeavours to translate into knit that which she feels is the magic of living and working in Shetland today. Her knitwear design business Nielanell was founded in 2008, it has since expanded into a world wide market. Enjoying a wide variety of commission work, Niela recently led workshops for young folk in the Scottish Design Relay, a project run by the newly opened V & A Museum of Design.
In the past year she designed stage outfits for the musical performance of Northern Flyway and also had work featured at Collect 2018. A spinning wheel display and anticipated lively discussion will interest those who share Niela's passion for handspinning and dyeing.
Please note this is intended to be an informal chat and tour, you are invited to drop into or leave it at any time – especially if you need to get to a class at the Hoswick Visitor Centre.
If you wish to have a talk or tour at any other time, just email/phone/drop in. 01950 431413 info@nielanell.com
Transport: Buses (the number 6 service) leave from Viking Bus Station and regularly travel to Sandwick (a 6 minute walk to the Studio and Visitor Centre). We suggest you ask the driver to let you off by the shop or Hall. Folk regularly travel from Lerwick, lifts and car sharing is usually available. Please email us if you need assistance with the bus timetable, or if you need any other assistance.