Date:
05 October, 2019
---
Cost:
Free
---
Time:
11.00 - 16.00
---
Location:
Anderson High School, North Loch Drive, Lerwick
---
Materials:
N/A
---
Tutor:
N/A
---
Transport:
N/A
---


---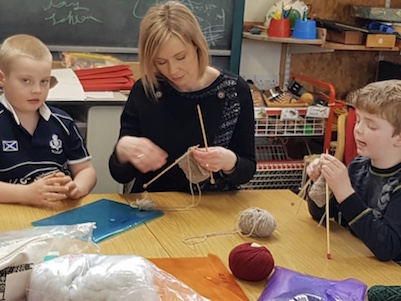 ---
Come along during the Shetland Wool Week 2019 Makers' Market to meet ShetlandPeerieMakkers – the next generation of Shetland hand-knitters. This drop-in event will give you the chance to meet, chat with and create alongside the future knitters of the Shetland Isles.
The Brough Lodge Trust's ShetlandPeerieMakkers project aims to freely enable primary school aged children in Shetland to learn the special skills and knowledge of Shetland hand-knitting. To encourage a living future culture of Shetland knitting, and individually creative Shetland knitters, the PeerieMakkers are learning through guided practice led by our expert tutors. They meet in small supported groups in each community, following the Shetland tradition of sharing essential skills across generations in a supportive environment.
The bairns (children) and their tutors will have their 'makkin' with them, so please bring your current projects along and join them for some quality knitting time.