Date:
02 October, 2019
---
Cost:
£65.00
---
Time:
09.30 - 12.30 or 14.00 - 17.00
---
Location:
Ninian, 80 Commercial Street, Lerwick
---
Materials:
Included
---
Tutor:
Joanna Hunter
---
Transport:
N/A
---


---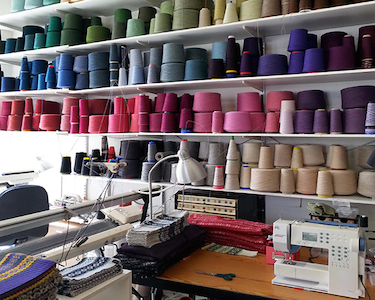 ---
Join local designer Joanna Hunter in her 20th year of designing and producing knitwear. She'll teach small intimate workshops for four participants, developing mood boards and playing with colour, at her studio in Ninian. Joanna leads you through the processes used to design her collections, from sketches and mood boards onto her final garments. You'll be inspired by the array of yarns and materials around you while learning to make new and exciting colour pallets which you can see come to life using Joanna's design software. Be prepared to have your boundaries pushed to explore colours in a new, exciting way.
Her Lerwick studio includes knitting machines, linkers, sewing machines and you're free to let yourself be led in a new direction to unearth designs you never knew were inside you.
This is a great class for all abilities, drawing on Joanna's eye for colour and years creating hundreds of designs for her brand JHK.
Materials: Cost includes all materials, coffee and cake.
Please note that the studio has three steps to access with no lift available.
Skill level: This workshop can accommodate all skills levels with each participant working at their own pace.