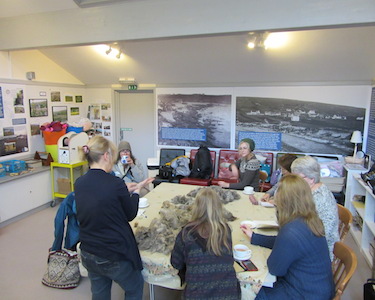 ---
Ribbing enhances a design and can add a real finishing touch to a garment. There is an endless variety of rib. Elizabeth from Shetland Handspun, leads this class on ribs that are typically used by Shetland knitters; a coloured K2, P2 rib; a FI patterned rib; and a double fabric rib.
Use these ribs for cuffs, basques, necks, facings, pockets, patches, whatever comes to mind. Once these basics are mastered, possibilities are endless.
Materials: Shetland jumper weight yarn in a variety of colours, Fair Isle patterns, and graph paper will be provided. Bring 3 DPN size 3mm or circular.
Skills required: Participants need to be able to knit and have some experience in Fair Isle.
Elizabeth has knitted from childhood, learning age old skills from family, firstly knitting Fair Isle then Lace, refining finishing skills and then moving on to the knitting machines. Her main desire was always to learn to spin, and eventually bought her first spinning wheel in 1978. And she has bought quite a few since. Spinning has become the main focus in her business, Shetland Handspun, producing handspun yarns and garments which are all handknitted in her handspun yarns. Further info from shetlandhandspun@btinternet.com
Transport: Buses leave from Viking Bus Station (Service no.6) and regularly travel to Sandwick (a 6 minute walk to the Visitor Centre). We suggest you ask the driver to let you off by the shop or Hall. Folk regularly travel from Lerwick, lifts and car sharing is usually available. Please email us if you need assistance with transport, or if you need any other assistance. For bus timetable
https://www.zettrans.org.uk/bus/BusTimetables.asp