Date:
02 October, 2019
---
Cost:
Free
---
Time:
09.00 - 17.30
---
Location:
Nielanell Studio, Hoswick, Sandwick
---
Materials:
N/A
---
Tutor:
N/A
---
Transport:
Not included
---


---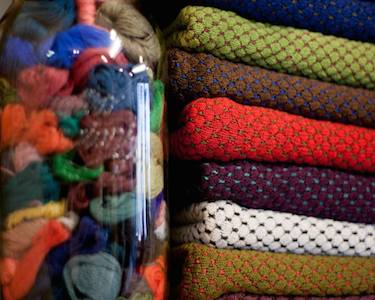 ---
A place of pilgrimage for those in the know. The small and unassuming shop only hints at the tactile sweetshop within.
Visit the studio/shop to find an unexpected range of knitwear, glorious handspun and scrumptious batts (and buried under all that – you might even find Niela!!) Renowned for her inventive knit collections Niela concentrates on designing knitwear for real people – to suit all shapes and sizes. Come and enjoy a cup of coffee – or try to convince Diane to pass out the sherry (in exchange for some help with folding…)!
The studio/shop has an inviting and informal atmosphere – when not teaching Niela can be found here chatting about life as a textile designer lucky enough to live in this rural village. Insist she part with one of her many spinning wheels – every year she promises that this will be the year she sells some… Visit us.
The Alternative Shetland Knitwear.. Distinctly Nielanell. Designed for Comment.
About Niela – Niela started out life as a criminal defence lawyer. A keen dyer and spinner, Niela started leading workshops at the weekends. Eventually realizing she had another calling, she went back to art school and re-qualified in textile design. Now designing under her own label, Niela's secret passion remains in dyeing and spinning ridiculous yarns. Best known for her vibrant and unexpected colour combinations, Niela's distinctive knit can now be found all over the world. She designs both the textile and the clothing. The key to her success is her insistence on making highly original pieces which reflect what is to her, the essence of Shetland.
Transport: Buses (the number 6 service) leave from Viking Bus Station and regularly travel to Sandwick (a 6 minute walk to the Studio and Visitor Centre). We suggest you ask the driver to let you off by the shop or Hall. Folk regularly travel from Lerwick, lifts and car sharing is usually available. Please email us if you need assistance with the bus timetable, or if you need any other assistance.