Date:
06 October, 2019
---
Cost:
£20.00
---
Time:
10.00 - 14.00
---
Location:
Hoswick Visitor Centre, Hoswick, Sandwick
---
Materials:
N/A
---
Tutor:
N/A
---
Transport:
Not included
---


---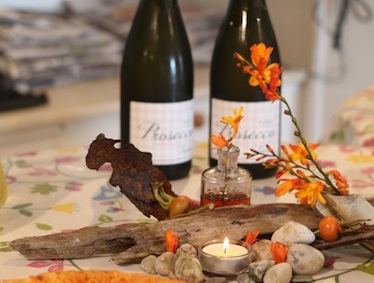 ---
Join us to share wool-week tales over a glass of sherry – accompanied with an exciting cheese board of course! Our Sunday play days in the past have always been a resounding success and a sellout. This event allows us to enjoy the company of woolly-minded folk for a morning get together. All of our equipment (spinning wheels, carders, books etc) will be out for everybody to play with – a lovely warm atmosphere is embraced.
Starting out with sherry and shortbread (maybe coffee too) we get together to knit, spin and reflect with visitors, locals and friends. Take advantage of our tutors' knowledge – ask a question and learn a new trick. Indeed – we learn from you too! Forge new friendships and cement old ones over a decadent morning glass or two of sherry, with a sumptuous cheeseboard of course.
The Hoswick wool week tutors thoroughly enjoy the company of wool-weekers and friends in this regular Sunday feature – our favourite day of the week. We are finally able to spend a little time playing with all the lovely woolly folk who have come from all over the world to visit us and our islands. We have time to relax and learn more about our visitors, we can even be spotted doing a bit of spinning or knitting ourselves! Friendships forged on this day have taken us all over the world.
We hope you can also make it to the Sunday Teas with the Shetland Guild in the afternoon.
Do come and join us – we would love to see you.
We aim to suit all dietary requirements, please contact us if you have special dietary needs.
Email: shetlandhandspun@btinternet.com
Transport: Buses leave from Viking Bus Station (Service no.6, from Lerwick at 9.15, return at 14.26) regularly travelling to Sandwick (a 6 minute walk to the Visitor Centre). We suggest you ask the driver to let you off by the Carnegie Hall. Folk regularly travel from Lerwick, with lifts and car sharing usually available especially for the return journey to Lerwick. If necessary we can offer a lift from Hoswick to Lerwick. Please email us if you need assistance with transport.
For bus timetable – www.zettrans.org.uk/bus/BusTimetables.asp
www.zettrans.org.uk/site/assets/files/1084/south_mainland_printable_version.pdf