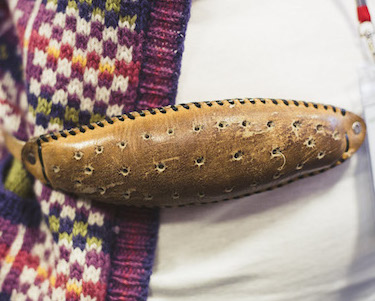 ---
Practise using a Shetland style stuffed leather knitting belt and long double pointed needles. After a few rows, try adding a raepin string at the bottom of your knitting to discover if this changes your tension, speed and knitting position.
In the workshop you will use 2 long double pointed needles (40cm long) and a knitting belt. We will also look at different techniques for holding your yarns during fair isle knitting.
Homework: to see if using a belt and string make a difference to your knitting, please bring a single colour piece of stocking stitch or garter stitch worked back and forth, 35 stitches x 20 rows, in jumper weight yarn on 3mm needles (either straight or circular). Do not cast off the stitches.
Materials: If you have long DPNs and a belt, please bring them; some will be available in class to borrow. Bring two 3mm DPNs, preferably 30cm between 40cm long and up to 25g of jumperweight yarn (the same used for homework). Choose a lighter coloured yarn to make it easier to see the stitches.
Skills required: Must be able to knit with an interest to improve your knitting technique, speed and tension.
Transport: Service Bus No. 6 from the Viking Bus Station to Channerwick junction. Collection from Channerwick by prior arrangement if required.