Date:
02 October, 2019
---
Cost:
£110.00
---
Time:
09.45 - 16.30
---
Location:
Hoswick Visitor Centre, Hoswick, Sandwick
---
Materials:
See description
---
Tutor:
Elizabeth Johnston
---
Transport:
See description
---


---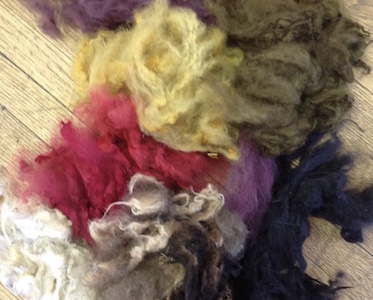 ---
Join Elizabeth of Shetland Handspun, and discover how to get tones of natural and dyed colour that blend into Fair Isle patterns (or any garment). Mix colours for a consistent shade, as Shetland knitter in the past wanted, or a variegated yarn, as many of us like to use today. With natural and dyed fleece and top, we will mix and modify to find blends and shades which will be stunning in any design.
Materials: Fleece and top will be provided but feel free to bring fibre in your own favourite colours.
Skills required: Must be able to spin.
Lunch is provided, please contact us with any special dietary requirements.
Further info from shetlandhandspun@btinternet.com .
Transport: Buses leave from Viking Bus Station (Service no.6, at 9.00) regularly travelling to Sandwick (a 6 minute walk to the Visitor Centre). We suggest you ask the driver to let you off by the Carnegie Hall. Folk regularly travel from Lerwick, with lifts and car sharing usually available especially for the return journey to Lerwck. If necessary we can offer a lift from Hoswick to Lerwick. Please email us if you need assistance with transport.
For bus timetable – www.zettrans.org.uk/bus/BusTimetables.asp
www.zettrans.org.uk/site/assets/files/1084/south_mainland_printable_version.pdf
Elizabeth has knitted from childhood learning age-old skills from family. She began with knitting Fair Isle and then moved on to lace. Constantly refining finishing skills, Elizabeth progressed to working with knitting machines. Her main desire had always been to learn to spin, and she eventually bought her first spinning wheel in 1978… she has acquired a fair few since! Spinning has become the main focus in her life and business, Shetland Handspun, producing handspun yarns, patterns and kits, as well as garments which are all handknitted in her handspun yarns. She is also a keen dyer, and can get the most beautiful colours always using natural dyes. She is a co-writer of a newly published book "The Warp Weighted Loom".