Date:
01 October, 2019
---
Cost:
£45.00
---
Time:
18.30 - 21.30
---
Location:
Hoswick Visitor Centre, Hoswick, Sandwick
---
Materials:
Included
---
Tutor:
Anne Eunson
---
Transport:
Not included
---


---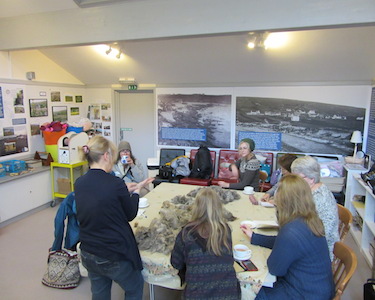 ---
Shetland Lace is world renowned, not just because of the beautiful knitting but also because of the perfect finishing which enhances the exquisite form and edges of the piece. Anne comes from a family of experienced lace knitters – where there was as much emphasis on the quality of the dressing as there was on the knitting.
This workshop will demystify the secrets of proper washing and blocking. You will learn how to prepare, wash and stretch (block) Shetland lace and openwork knitwear, including sweaters, cardigans, shawls, scarves, stoles and haps. Often the most feared part of the finishing process, Anne will guide you through a number of simple steps which will ensure that your final piece reflects all the time and effort you put into the knitting.
Skills required: Must be able to knit and have some knowledge of 2 colour knitting.
Transport: Buses leave from Viking Bus Station (Service no.6, at 17.15) regularly travelling to Sandwick (a 6 minute walk to the Visitor Centre). We suggest you ask the driver to let you off by the Carnegie Hall. Folk regularly travel from Lerwick, with lifts and car sharing usually available especially for the return journey to Lerwick. If necessary we can offer a lift from Hoswick to Lerwick. Please email us if you need assistance with transport.
For bus timetable – www.zettrans.org.uk/bus/BusTimetables.asp
www.zettrans.org.uk/site/assets/files/1084/south_mainland_printable_version.pdf
Anne and her sisters could almost knit before they could walk! All incredibly experienced lace knitters and designers, they hold a wealth of knowledge about Shetland Lace knitting. Many of you will be familiar with Anne's knitted lace garden fence – see Kate Davies web blog for images! katedaviesdesigns.com/2012/09/05/anne-eunsons-artistry/