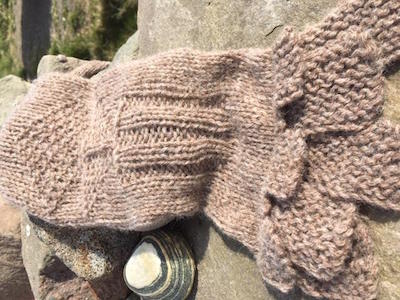 ---
The Gunnister Man was the name given to remains found in a peat bog in Northmavine. Dating from around 1700, his clothes and other items were perfectly preserved by the peat and are now on display in the National Museum of Scotland with replicas in the Shetland Museum. Visit the site of the Gunnister Man's grave and hear the story of his discovery. Then begin to knit The Gunnister Man's Gravit (scarf) a design inspired by the motif on his socks and the layers of peat he was found under. Double Knit Foula Wool is included.
Materials: Double Knit Foula Wool is included. A light lunch is included. Waterproof footwear is recommended.
Transport: Transport is provided from Brae. Transport from Lerwick to Brae is not included buy by public transport (around £8 return). Take the bus from Lerwick around 9.00am to Brae. You will be picked up in Brae in the morning and dropped off in Brae to meet the bus back to Lerwick around 5pm. Times will be confirmed nearer the event when the bus timetable is updated.