Date:
30 September, 2019
---
Cost:
£50.00
---
Time:
09.00 - 13.00; 13.00 -16.30
---
Location:
Bressay Ferry Terminal, Bressay
---
Materials:
N/A
---
Tutor:
Chris Dyer
---
Transport:
Included
---


---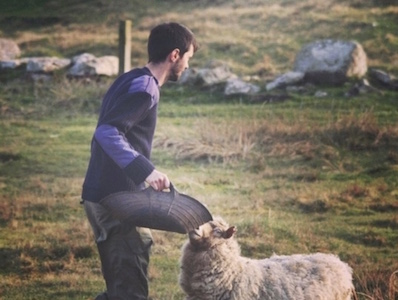 ---
A truly unique opportunity to join local crofter Chris Dyer (featured in Kate Davies blogs) on an exclusive walk through the agricultural year in Shetland, looking at the sheep – ewes, rams and lambs. White/coloured/fleckit and even katmogget! Sift through fleeces from Chris's flock and see the principal day to day tools and equipment that are used by a Shetland crofter! Chris's croft is mixed with pigs, turkeys, hens and vegetables alongside his beautifully coloured sheep, so there is plenty to see.
THIS TRIP INCLUDES A FERRY ACROSS TO THE ISLAND OF BRESSAY. PLEASE ARRIVE 5 MINUTES PRIOR TO DEPARTURE AT THE BRESSAY FERRY TERMINAL IN LERWICK WHERE YOU WILL BE GREETED IN PERSON BY CHRIS DYER AND ACCOMPANIED ACROSS BRESSAY SOUND.
TRANSPORT ACROSS THE ISLAND OF BRESSAY AND FERRY FARES FROM LERWICK ARE INCLUDED IN THE COST.
THE MORNING AND EARLY AFTERNOON TOURS ARE INCLUSIVE OF A LIGHT LUNCH REFRESHMENT AT THE SPELDIBURN CAFE.
THE MORNING TOUR WILL TAKE THE 9AM FERRY TO BRESSAY AND THE 12.45PM (12.15PM ON SUNDAY) FERRY BACK TO LERWICK.
THE EARLY AFTERNOON TOUR WILL TAKE THE 1.00PM FERRY TO BRESSAY AND THE 4PM (4.15PM ON MONDAY-FRIDAY) FERRY BACK TO LERWICK.
THE LATE AFTERNOON TOUR WILL TAKE THE 4.30PM FERRY TO BRESSAY AND THE 6.45PM FERRY BACK TO LERWICK.
————
Cost. Morning and Early Afternoon tours (with refreshments of soup, scone, homebake and tea/coffee at Speldiburn Cafe). £50 per person.