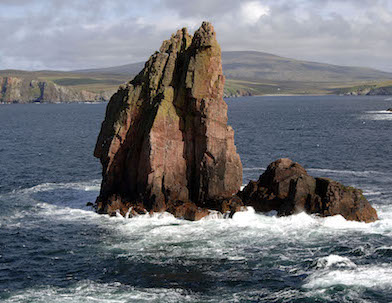 ---
Meander through Lerwick, the only town in Shetland, dating from the 1600s, as you travel to the North West corner of the Shetland Mainland.
Head North through peat and heather covered landscape to the picturesque community of Voe, with its Scandinavian influence. Onwards through Brae and crossing Mavis Grind where the North Sea almost meets the Atlantic Ocean. Northwards still, the scenery becoming more spectacular with every mile, viewing some of Shetland's aquaculture industry. Stop for a photo of the Drongs, a group of spectacular sea stacks and continue on to the Braewick Café, which has the perfect location in which to relax and enjoy the refreshments on offer. Then onwards for an optional cliff-top walk at the Eshaness Lighthouse where fire and ice of volcano and glacier have forged Shetland`s world famous geology.
Next is a visit to the Tangwick Haa Museum, which displays different aspects of life in the area through the years, illustrated by using a mixture of artifacts and photographs. Afterwards, we head to Hillswick's St Magnus Bay Hotel for a light lunch.
At the Ollaberry Hall, you can try spinning and carding. There will be demonstrations on how a hap is put together and demonstrations on how a cardigan or jumper is prepared for putting on a jumper board. You are allowed to handle the exhibits.
Refreshments and lunch provided.
Please let us know if you have any dietary requirements when booking the tour.