Date:
06 October, 2019
---
Cost:
£75.00
---
Time:
08.45 - 15.15
---
Location:
Shetland Museum & Archives Car Park, Hay's Dock, Lerwick
---
Materials:
N/A
---
Tutor:
Island Vista
---
Transport:
Included
---


---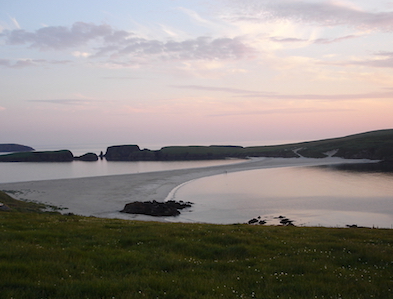 ---
Meander through Lerwick, the only town in Shetland, dating from the 1600s, as you travel to the most Southerly tip of the Shetland Mainland. View the fertile limestone community of Fladdabister, and the world's best preserved 2,000 year old Iron Age Broch, on the Island of Mousa. Then cross the 60 degree North line of latitude and over to the rugged Atlantic coast. There you will take in the vista of St Ninian's Isle, and hear the story of buried Pictish treasure, view white sandy beaches, and possibly seals, from the cliff road. Stop on route at Scousburgh to see some Shetland Sheep. These come in a wide selection of colours. Shirley Leslie, the owner, will board the bus to give you more information about her sheep.
Continue towards Quendale Farm and stop again to see some other breeds of sheep and receive information from Hillary Burgess.
We then visit the Quendale Mill, which was built in 1867. The restored water mill offers a 10 minute interpretive video of the mill's history. Visitors can then view the interior of the mill, which covers three levels. Refreshments will be available at the Quendale Mill (Guests pay).
Continue our journey further south and have lunch at the Sumburgh Hotel. After lunch, take the opportunity to travel through 5,000 years of Shetland history at Jarlshof, one of Europe's biggest and most complex archaeological sites, ranging from the New Stone Age up to the 1600s. Hear more of Shetland's culture and heritage from your qualified local guide, on your return journey to Lerwick.
Lunch is provided. Please let us know if you have any dietary requirements when booking the tour.