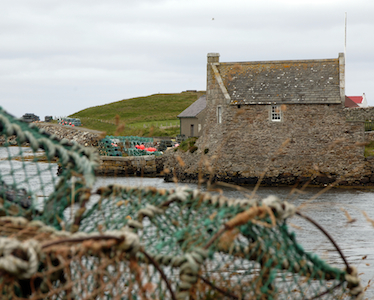 ---
Why don't you take some time out of your busy Wool Week schedule to come and visit our "Bonnie Isle".
Going by our visitors comments from previous years, you won't regret it.
Symbister Hall is only a short walk up from the ferry terminal and will be open for visitors between the hours of 12.30 – 7pm on Friday 4th October.
For a £12 charge per person, you can spend the afternoon here browsing the beautiful selection of colourful local knitwear on display, watching demonstrations , or taking part in various activities.
Refreshments and a tasty selection of finger foods/homebakes will be available for you to enjoy between the hours of 1.00-4.00pm and is included in the admission price.
There will be plenty of time for the knitters among you to relax and enjoy time spent with like-minded locals of all ages. You can compare techniques, share knitting tips, see how they blend colours etc.
For those who would rather learn more about the Island, we also have our great Heritage and Community Centre where you can browse the latest display, or find out about the Lairds who ruled the land and lived in the Georgian mansion known as Symbister House…which now houses the Secondary department of our School. You can also see the permanent display on our Fishing heritage. The Hanseatic Booth near the harbour will also be open to visit, with a lovely display and information about our historical links with the German Hanseatic Traders.
We plan to produce a leaflet which will be available nearer the time with all the demonstrations and activities which we hope will be available on the day.
We hope to have something for everyone, so you will leave our Isle wanting to visit us again.
Transport: Public transport bus leaves Viking Bus Station, Lerwick at 11.15am, which will take you to Laxo/Vidlin ferry terminal to catch the 12 noon ferry over to Whalsay. Crossing takes approx. 30/45 minutes, depending on which ferry terminal used. (Mainly Laxo, but maybe Vidlin in certain weather conditions.)
The 17.00 ferry from Whalsay will connect with the bus departing at 17.50 from the Laxo terminal back to Lerwick .
There are earlier ferries into Whalsay, so if you are travelling by car, you are advised to make a booking in advance. This can be done through the booking office 01595745804 . Symbister Hall is only a short walk from the ferry terminal, so a car is not essential to get there, unless of course, you wish to enjoy a drive around our beautiful Island. You can find more information on ferry timetables online at https//www.shetland.gov.uk.
Transport: The ferry terminal for Whalsay is at Laxo, a 20 mile drive from Lerwick. The crossing to Symbister takes 25 minutes. Booking is advisable. Further details of timetables and ferry fares can be found on https://www.shetland.gov.uk/Ferries/timetable.asp