Another very woolly week!
Here is our round up of Shetland Wool Week 2016
The seventh annual Shetland Wool Week was the biggest and busiest one yet! From the most northerly to the most southerly islands of the Shetland archipelago, participants indulged in wool-related workshops, drop-in sessions, talks, demonstrations, studio visits and our famous Sunday teas. Over 160 different events were offered, many with repeat sessions.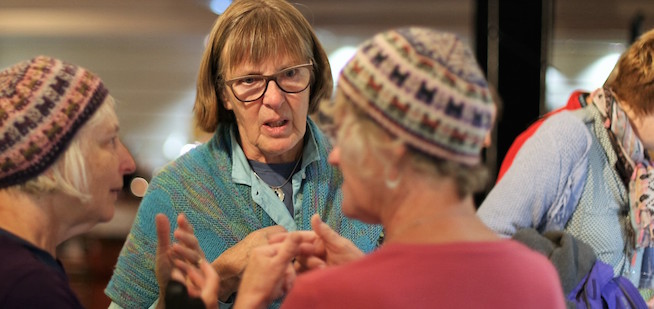 Many of Shetland's most experienced makers, designers, and textile specialists participate each year by presenting courses and other events. For 2016 the programme had grown considerably large and varied covering everything from spinning, dyeing, many types of knitting, and weaving to making accessories for wool-working such as shawl pins, silver buttons and baskets.
The Opening Ceremony was a wonderful way to kick off the nine-day festival and guests were given a snapshot of Shetland culture throughout the evening.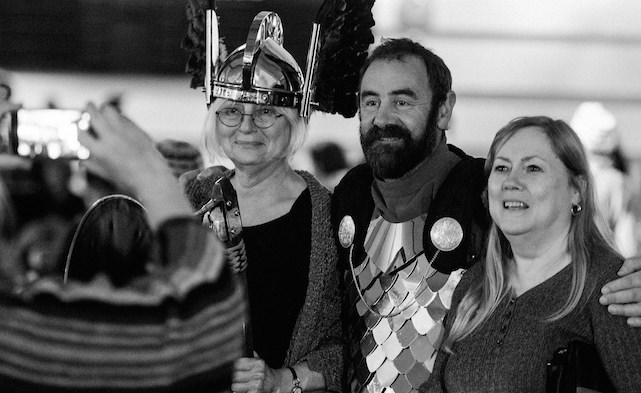 The Lerwick Jarl Squad put in a surprise appearance, and there were delicious canapes to try, using only Shetland produce and ingredients, as well as some painstakingly made, and very woolly inspired, cupcakes. There was music and talks and, for the first time, a Fashion Show, curated by Faye Hackers of Shetland College UHI. It was an eclectic display and showcased a variety of wonderful pieces from delicate handspun lace to Fair Isle jumpers and a dramatic Shetland tweed cloak. Keen that no one should miss out, the event was streamed live via facebook which meant that people all over the world could experience the evening.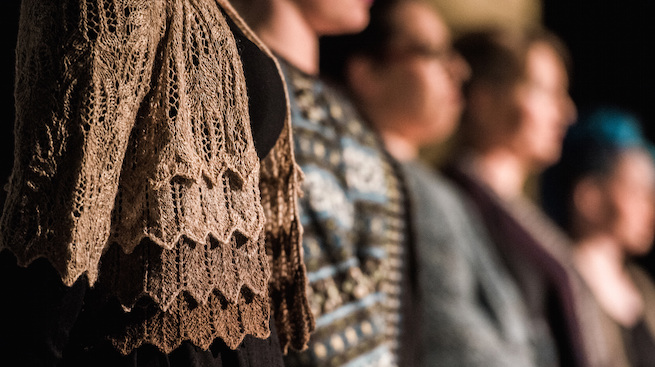 With so many classes and events taking place throughout the week it's impossible to capture everything, but here is a snapshot of pictures and words:
The tours to the outer isles of Whalsay, Fair Isle, Yell and Unst were incredibly popular and sold out quickly. People especially appreciated the warm welcome they received and the chance to meet and chat with islanders and find out more about their particular textile traditions. One participant commented on facebook, "The pride everyone has in Whalsay was evident which added so much to the day."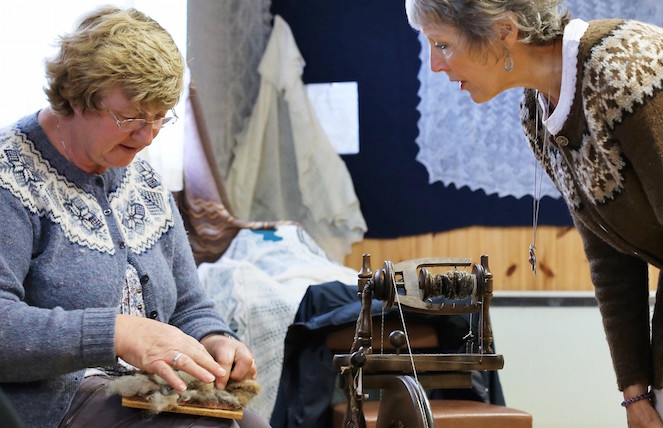 Fair Isle trip – a first for 2016, a lucky group of six ventured to this gem of an island to meet with Mati Ventrillon. Blessed with beautiful blue skies, the six took the short plane journey and began their full day tour, which focused on island life and knitting.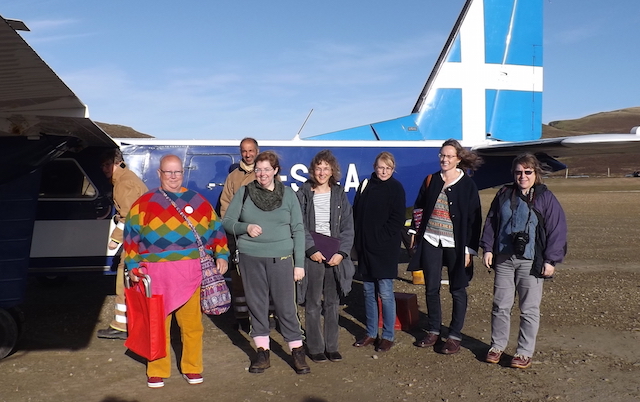 There was a guided tour to the South Lighthouse, and the Fair Isle Museum, as well as open studios and talks with Mati Ventrillon and Hollie Shaw. A delicious home cooked lunch at the Aauld Haa Gueshouse, followed by a trip to the  impressive Fair Isle Observatory and Lodge rounded off a perfect day, and will remain a favourite for many.
Joanna Hunter's Havera island trip went ahead in a slightly different format due to bad weather, but everyone still had the chance to view knitwear made by its inhabitants back at Joanna's home.
Joanna Hunter and Donna Smith's moodboard classes, always an inspiration, went down well. Joanna commented: "What an amazing wool week, meeting so many creative and exciting people, making new friends from all around the world. Everyone who attended our classes was so enthusiastic and the work they created was fantastic. I can't wait till next year to see who comes through the studio door."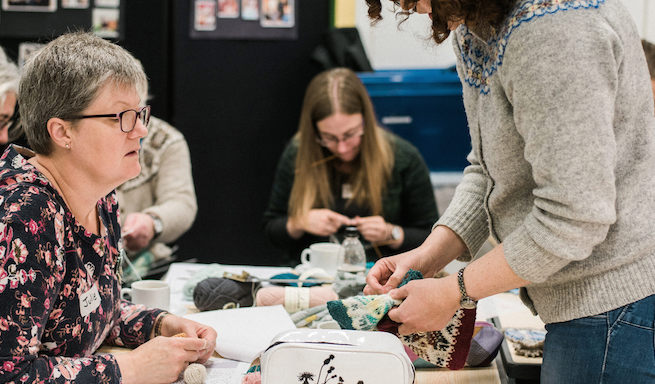 Experienced wire lace knitter Helen Robertson, held 'Light up your lace' lampshade classes, which proved to be very successful, with many commenting on her wonderful teaching skills and calm approach. Participants left the class with a totally completed project.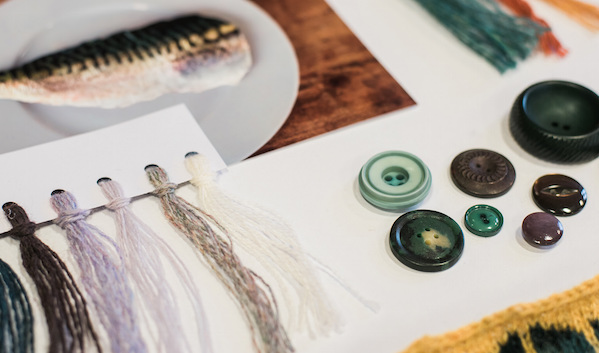 Natural dyeing workshops were available this year too, with Julia Billings exploring the essential steps involved in transferring the colour found in plants onto fibres.
Shetland's textiles and textile-making traditions are the focus each year but we also aim to bring different traditions into the mix by inviting foreign specialists.  This year Estonian knitwear designer and researcher Kristi Jõeste joined us.  She taught several classes in her speciality, Estonian glove-making, and one of her patterns was included in the Shetland Wool Week Annual.  Along with Shetland knitwear designer and Finnish native Outi Kater, Kristi discussed her research and designs at our Baltic Night evening lecture.
 The popular Makers' Market is an opportunity for local wool producers and makers to show and sell their wares during this nine-day event. It went down a storm with people keen to snap up a unique wool item. This year exhibitors featured yarn made from wool of Shetland's two most remote islands communities, Foula and Fair Isle. Students from Shetland College's Textile Department sold knitwear they designed and made in their courses and Shetland Handspun designer and maker Elizabeth Johnston made available her gorgeous hand-spun yarns in Shetland wool, coloured with natural dyes.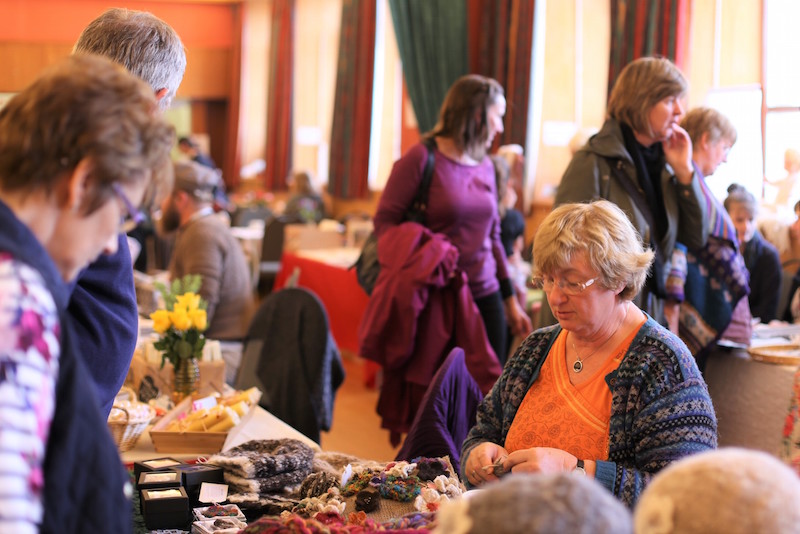 Talks were a great way for people to meet up in the evening and mainly took place at the Shetland Museum and Archives. Again, they were mostly all at full capacity, with Baltic Knitting Night; and SWW Patron Ella Gordon's 'Being a Knitter in Shetland' especially drawing in the crowds.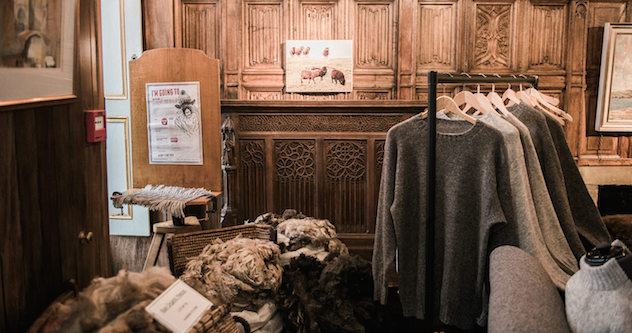 This year the Shetland Wool Week Committee introduced a new online booking system using Little Box Office.  This made registering for events easier, as tickets could be printed by the participant or simply shown on their phone, and allowed vendors to check participant numbers as events filled.
This year's HUB also enjoyed a change, and had moved from Islesburgh to the first-class location of the Shetland Museum and Archives. Here woolly participants could meet up with friends old and new, and enjoy a cuppa with their maakin. There were also many knitted donations throughout the week to the popular Shetland With Love charity.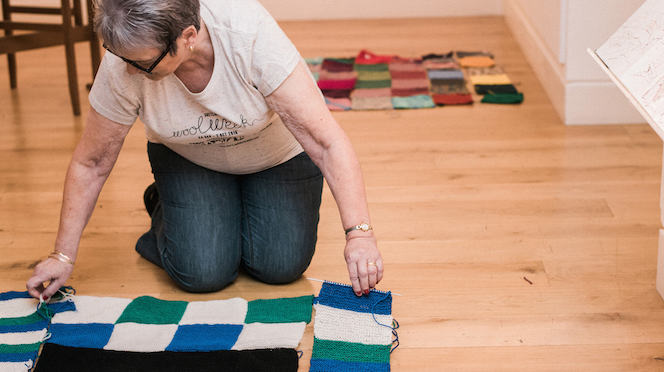 Shetland was blessed with 'Indian Summer' weather on most days but participants also got a taste of our wild and windy autumn weather.  Even Da Mirrie Dancers, the aurora borealis, made appearances on several clear nights – truly a magical nine days.