Behind the Scenes at the Museum, Part I
by Carol Christiansen, Curator
As a member of the Shetland Wool Week Committee, I am fortunate to speak with many of you during that special week. I thought it may be of interest to hear what goes on with textiles at Shetland Museum during the rest of year. As with many museums, we are dependent on donations from the public to enhance our collection. We only collect textiles and clothing directly related to Shetland and it is my job to assess the objects on offer for their suitability to the overall collection. It can be extremely exciting, especially when a package arrives in the post, having only been given a brief description of what's inside.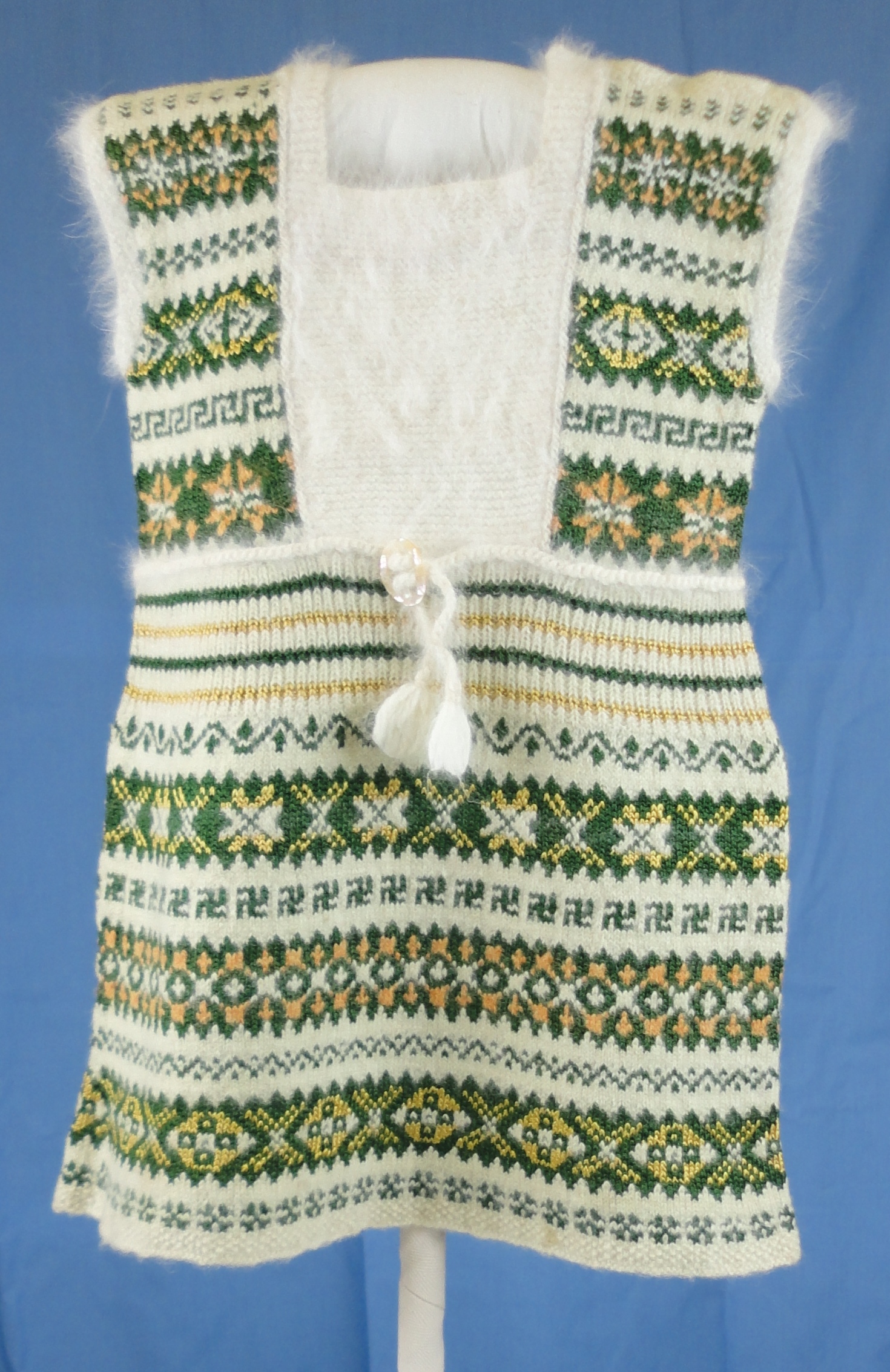 A case in point is a charming child's dress donated some days before this year's Wool Week by a family in New Zealand with Shetland ancestry. It was knit by Thomasina ('Neenie') Coutts, of Houbie, Fetlar, probably in 1932 for her brother's forthcoming child. Thomasina was the second youngest of 10 children; she never married and was 92 years old when she died. Four of her brothers fought in the First World War and all survived. Two brothers, Laurence and John, emigrated to New Zealand in the 1920s. On the emigrant ship they met two sisters, Jessie and Marion McIntosh from Glasgow, and eventually the two brothers married the two sisters. John and Marion had three children. The dress was made in preparation for the third child born in 1933, who turned out to be a boy. As a result, it was never worn.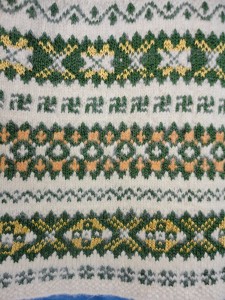 Thomasina made the dress from very fine cream-coloured wool, a smooth rayon yarn in gold, a crepe rayon yarn in dark green, and a woollen yarn in pale orange. Susan Freeman, a knitter and Wool Week participant has been here researching children's knitwear and I showed her the dress. She noticed it was made in two parts, a bodice and skirt. The patterned bodice was knit in the round, then the back and front were cut up the middle and inserts of white angora knit in garter stitch were sewn into the middle sections. The skirt was knit from the rib waist down and finished with a moss stitch hem. The armholes have an angora edge in moss stitch and an angora plaited tie was sewn around the waist, secured with a mother-of-pearl buckle. As with typical 'fair isle' patterning, each of the patterns uses a different motif. The wide patterns alternate with smaller ones and one of the small patterns is a swastika. This was a typical motif used in knitwear and other textiles throughout northern Europe before the war. Our collection contains other garments incorporating the swastika as a small pattern, all dating to the 1920s and early 1930s.