Christmas festivities
We're now in the final week before Christmas and, as always, it's hectic with too many things to fit in – last minute work commitments, last minute shopping, pressures to get the house organized and the fridge well-stocked. Island life also throws into the mix the extra worry factor of bad weather and whether transport connections will run smoothly, or the supermarket and parcel deliveries will make it in time.
It is a crazy time of year, but there is no hiding from the fact that we love it! We enjoy the traditions, the food, the glitter and sparkle – and the chance to be 'off' and spend time doing all the things we love most, whether that's cosying up by the fire, knitting, visiting friends and family, or making the most of the wonderful Shetland scenery.
We caught up with some of our Shetland Wool Week tutors to find out what the festive period means for them. 
Linda Shearer from the island of Whalsay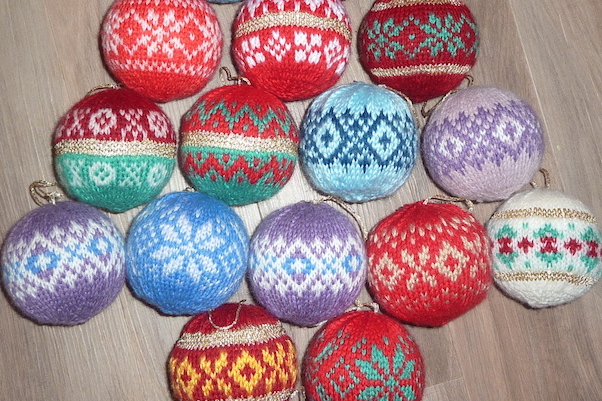 Christmas to me means family; we usually have all our family including my mum and dad for Christmas dinner.  I always like to have some knitting on the go, but be finished with any large projects – it's supposed to be bad luck to have a knitting project lying unfinished over Christmas.  According to my mum, it would "Craa on Yuleday".  I don't know if this is just a Whalsay saying, or if it's known Shetland wide.
 Joanna Hunter, knitwear designer and owner of Lerwick-based gift shop, Ninian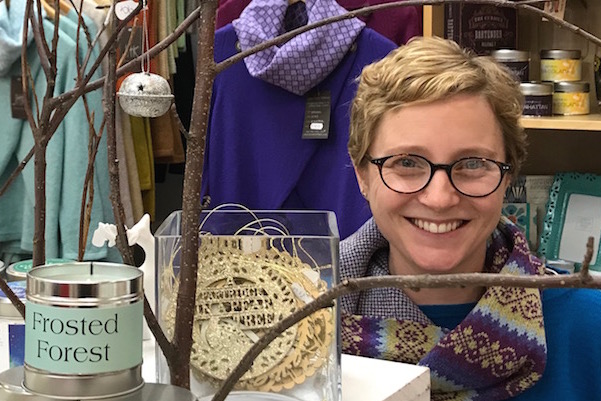 Christmas has always been about frantic knitting, long dark nights driving home and glitter from head to toe. Having a shop at Christmas time means that Christmas for me starts in October with the first wave of overseas orders coming in and filling the shelves with woolly items and sparkly baubles. I love how the shop looks and how happy everyone is when they come in to chat.
The Christmas window display is something we have been talking about and planning all year, when it's finally finished it feels like a coming together of everyone's ideas, hard work and inspiration.
Our studio is always a mix between bits of yarn, stacks of knitwear waiting to be finished and parcels with addresses for all over the world; it amazes me every year where our orders come from. When we close the shop on Christmas Eve the staff all stay and have a few mince pies, glass of bubbles and inevitably a few customers have a toast with us too. It's always a relief to get some days off with the family to sit with my feet up, play board games and eat far too much!!
 Niela Kalra of Nielanell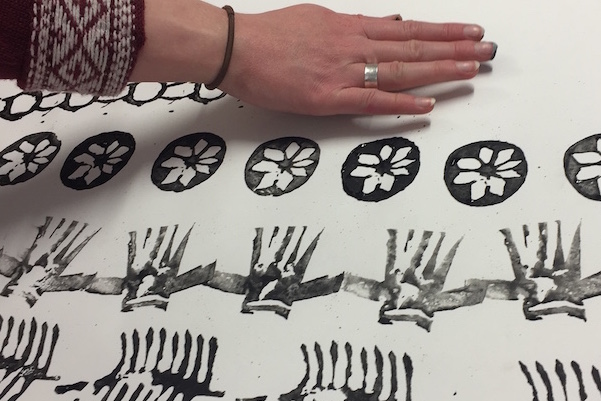 Christmas is a time to reflect, and to percolate new design ideas while enjoying a break from studio life – come January prototyping of new collections will be well underway. It's been such a busy and exciting autumn: I've been collaborating with V&A Dundee on a series of workshops with young Shetlanders, and also took a Nielanell pop-up shop to Inverness. Now that we're amongst Christmas orders, Wool Week seems a really long time ago!
The inspiration for the V&A Dundee project was, of course, an old Fair Isle jumper.  Young Shetlanders studied Fair Isle knitting and deconstructed some knit to enable them to explore community through pattern. They made potato prints of imagery which reflected their own Shetland communities.  The new knitted designs they came up with will be exhibited when the new museum opens next year!
Gudrun Johnston, SWW 2017 patron and knitwear designer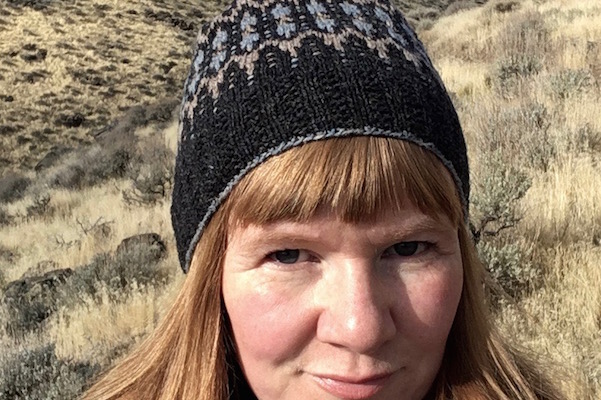 I do enjoy the festive season but don't necessarily have hard and fast traditions that I stick to. Since marrying an American 20 years ago and moving back and forth between countries, Christmas has always taken on slightly different formats. Sometimes we are with friends, sometimes with extended family. However every year definitely involves some knitted gifts! In the early days of my knitting I would be overly ambitious and plan far too many projects. This often meant staying up late Christmas Eve to frantically finish something off! Nowadays I make a few hats and randomly decide who will get them! Only this year, so far, I have kept one of those hats for myself!
 Hazel Tindall

Christmas in Shetland means few hours of daylight and, unless we are lucky and get a frosty spell of weather: grey skies. That's a good reason to wear bright clothes. This year I'll be wearing my Fair Isle Kep – knitted from Anne Sinclair's pattern which is sold to support Fair Isle's George Waterston Museum.
Terri Malcolmson, knitwear designer
Christmas for me is not just about one day. It's about going (last minute) late night shopping and bumping into people I might not have otherwise seen. Watching my musical sisters get their tinsel-wrapped instruments ready for a concert while I'm working on Christmas orders and makes, hoping there's time to spare to finish current projects in preparation for the new year. Taking festive photos of decorations is a must; you can't go wrong with dark nights and twinkling lights. I love watching films in the middle of the day, surrounded by candles, blankets, and endless cups of tea. Then once we've eaten and rested – going on a long Boxing Day walk, just because we have nowhere else to be.
Kathy Coull, tutor and owner of Fair Isle Textile Workshop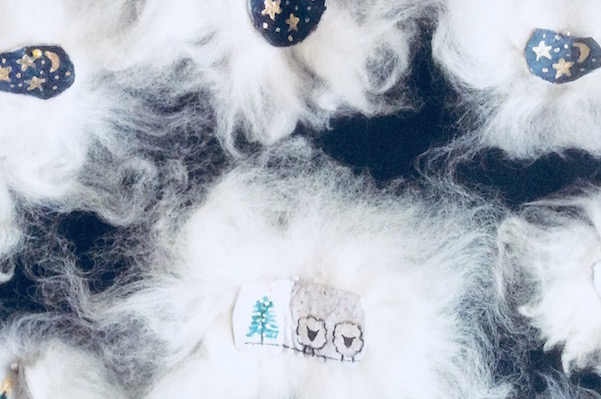 I have just finished several weeks of running guest accommodation on Fair Isle without a break but it did include one textile guest who I photographed doing some sheepskin Christmas decorations. They also drafted a woven floor rug design. Textile guest, Katherine Montgomery also made a basket for my windowsill … which was a nice Christmas present for me!
Rachel Hunter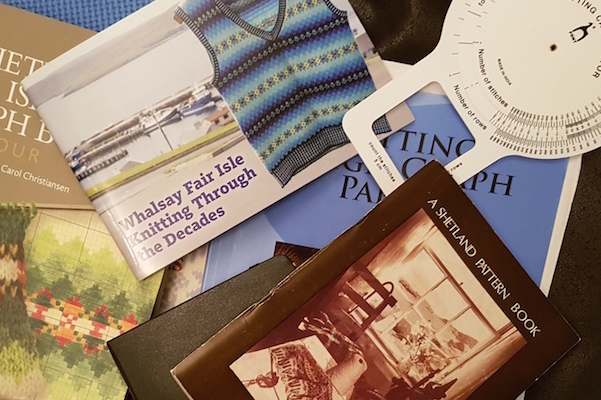 I am a member of the local Guild of Spinners, Weavers, Knitters and Dyers and I am currently designing a pattern for the Guild's next Fair Isle pattern book that will be released at some point next year.  This is the first time that I've actually written down a pattern from scratch so I've being doing a lot of research and swatching over the past couple of months.  I've had great fun immersing myself in my library of knitting and Fair Isle pattern books and as I am designing a garment I have found Kate Atherley's book 'Beginners Guild to Writing Knitting Patterns', as well as the  Craft and Yarn Council's guidelines for sizing for standard body measurements, invaluable.  These standards can be downloaded from https://www.craftyarncouncil.com if you are new to designing garments.  I am not going to say too much about my design at the moment, except that I am using yarn from Jamieson's of Shetland 'Heather' range – a soft spun Aran weight yarn.
In between designing I am also having to cram in finishing a hat for the office Christmas raffle!  I have decided to knit a hat using the Jamieson and Smith's Worsted Aran Weight Yarn in black, white and grey and use simple and bold Fair Isle motifs.   This yarn is an extension of their Heritage Yarn range and comes in 13 traditional shades. I will post a photo of it on the next SWW blog!
After finishing these projects I will then be starting to think about what classes I can provide at next year's Wool Week!  As I have been working with a lot of Aran Weight yarn lately, I have started to think about classes in lace and Fair Isle using this weight of yarn. Watch this space!
Ronnie Eunson of Uradale Farm
I'll be gathering in the sheep on the hill tops of Uradale. Shetland rams are waiting impatiently to see the yowes coming down to the inbye fields. Days are short at this time of year and beautiful still afternoons are rare. So 'caain' in the winter sunshine is an experience worthy of mention.  But where are the sheep!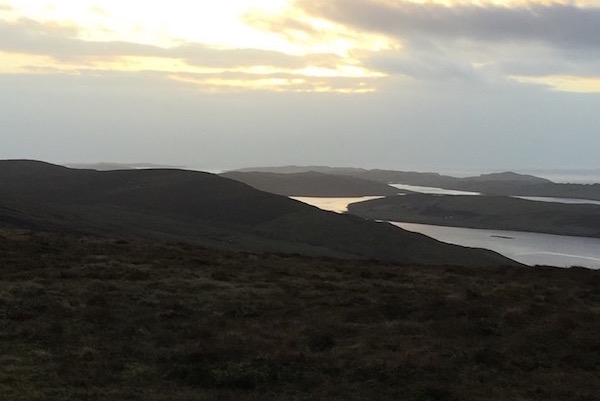 Pete Glanville of ShetlandOrganics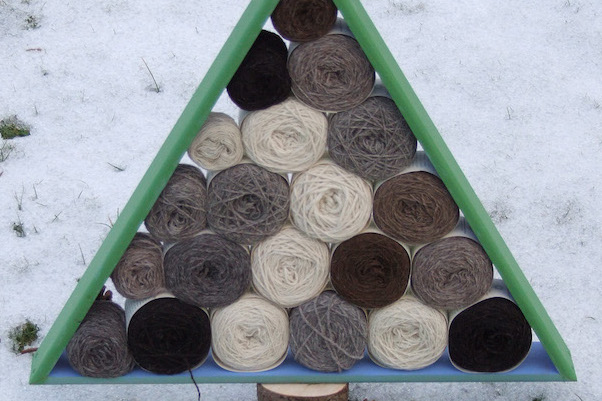 Shetland Organics were wanting to wish everyone festive greetings. They are looking forward to 2018 and another fantastic Shetland Wool Week.
Elizabeth spinning
Many of you will have seen Kate Davies's wonderful book 'Shetland Oo', which captures the many different kinds of work that oo supports, through a series of essays and evocative photography.
All the photos were taken by Kate's husband Tom Barr, and back in November one of Tom's images, 'Elizabeth Spinning', was shortlisted in the 8th annual EEF manufacturing photography competition. The image is a wonderful capture of talented hand spinner, Elizabeth Johnston of Shetland Handpun who is based in Scousburgh, Shetland.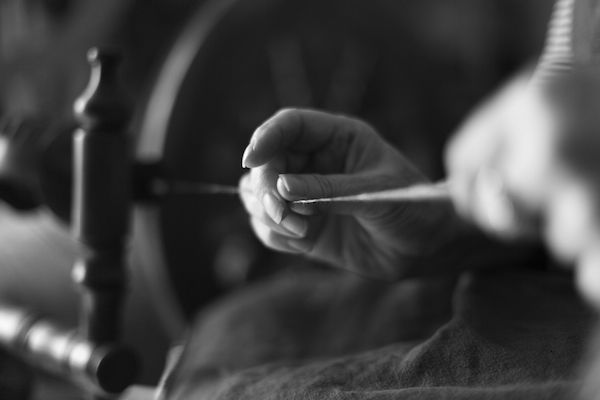 We love the image and are delighted that it is getting a chance to be seen by a wider public as it is on display at the House of Commons in London.
Whatever you're up to this festive period, we wish you the happiest of happy times and a wonderful New Year.