Crofthoose hat on tour in NYC
Shetland Wool Week and its patron Ella Gordon have just returned from a packed few days in New York where they and Ella's 'Crofthoose hat' hit the North American market at the popular Vogue Knitting Live show.
We escaped the storms in Shetland and arrived in NYC, home to 8.5 million people, where we were met by a world of contrasts, noise and colour.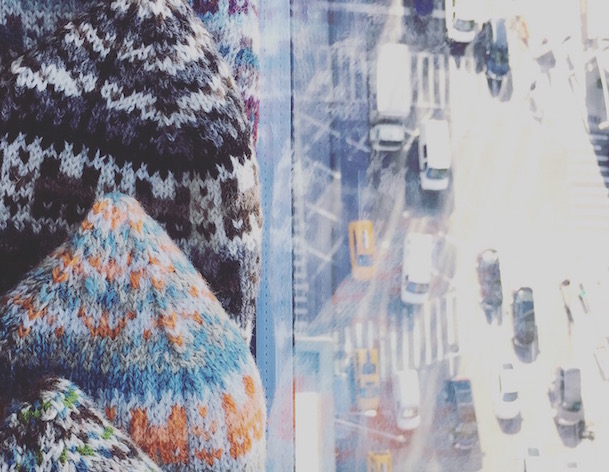 This is the second year we have attended the event – which is one of the biggest dates in the knitting and yarn calendar on the East Coast, attracting around 8,000 visitors. It took place in Times Square, a somewhat incongruous setting, and, over three days, knitting aficionados indulged their passion for yarn with thousands of like-minded people, bought endless quantities of wool from stall holders, attended classes, listened to talks and watched fashion shows. It was also a wonderful opportunity for visitors to wear their beautiful hand-knitted creations and there were many moments spent admiring and sharing compliments.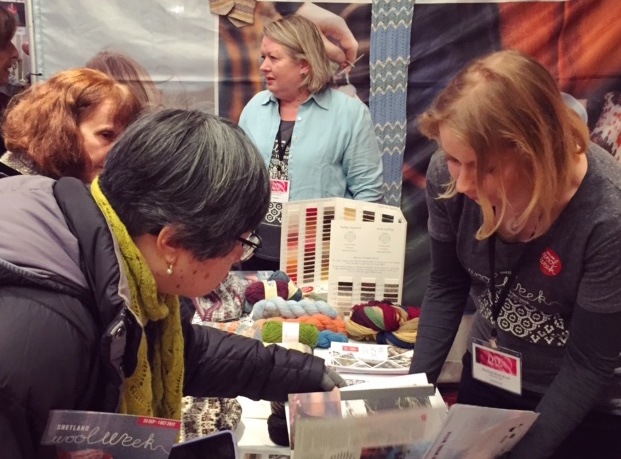 Our Shetland Wool Week stand attracted a lot of attention and it was so encouraging to be met with such enthusiasm. People seemed genuinely delighted that we had made a return visit and it was a wonderful chance for us to talk about our favourite things: Shetland's textile industry and heritage, the yarn, the islands, as well as answer any technical questions. We also loved meeting old friends and making new ones too.
We had taken samples of the different crofthoose colour ways – from Shetland Organics, Jamieson's, J&S, and Spindrift Crafts – among other Shetland samples. People appreciated the chance to be able to touch and feel the yarn and admired the different colours, especially the natural dyes from Spindrift.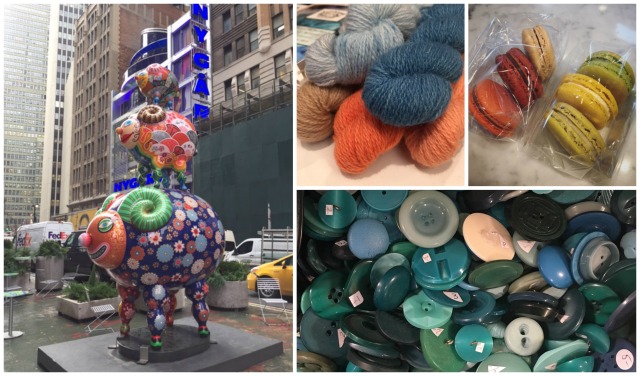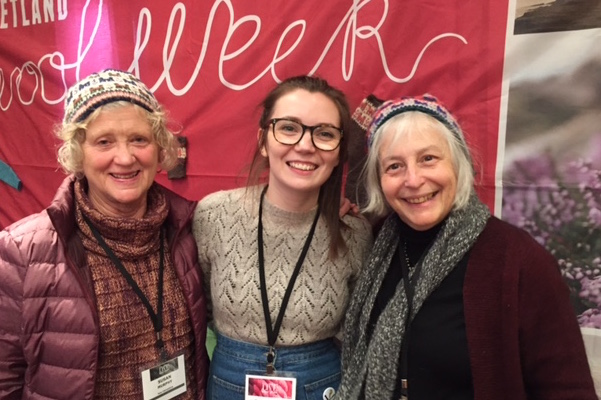 Ella was in her element as she met and chatted with her blog and instagram followers. Many were familiar with her hat design and had already knitted it, while others were keen to take the free pattern and give it a try. There were lots of questions about two colour knitting, which maybe need to be addressed. We feel another tutorial coming on …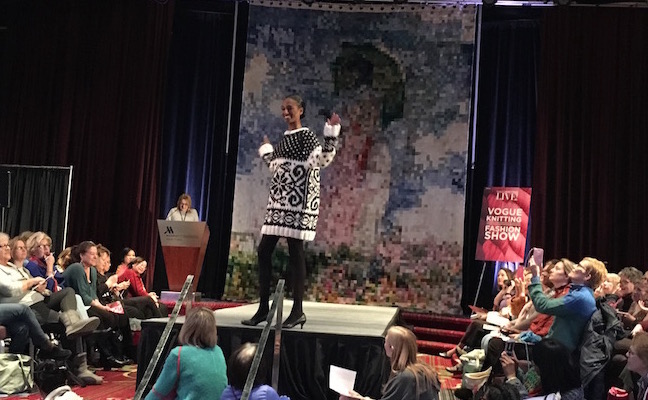 Yarn art is a key component of the event and there were some fantastic pieces on display, but the highlight surely had to be the magnificent depiction of Claude Monet's iconic 'Woman with a Parasol'. Produced in Europe by Citémôme it is the result of 100,000 knitted squares. It really was a masterpiece and made a dramatic backdrop to the non-stop fashion shows which took place.
Outside of the event, we gradually started getting the hang of Manhattan's grid plan. Seeing iconic buildings such as the wonderful 22 storey, triangular Flatiron which was built in 1902 was one to tick off the bucket list. Walking the High Line, a converted train track, and now an urban walkway with incredible views and public art was another highlight. We loved soaking up the culture and found the architecture, food, textures and colours an endless source of inspiration.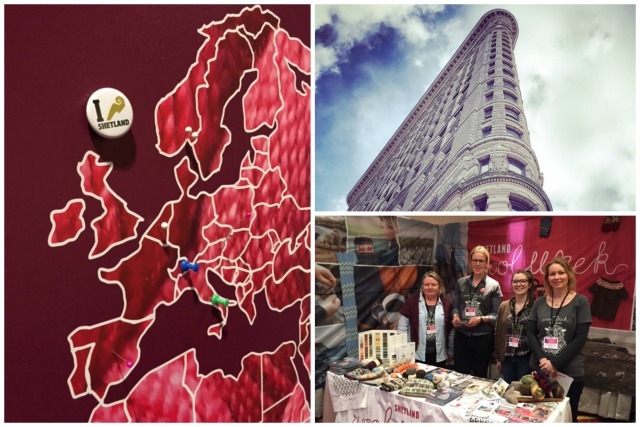 Thank you for having us NYC. We hope to be back and also see many of you at Shetland Wool Week soon.