Getting out and about with SWW and the 'crofthoose' hat
We've just attended our first ever Shetland Arts & Crafts Fair which took place over the weekend in Lerwick. It was so good to chat to novice and experienced knitters, or those purely interested in Shetland's wool and textile heritage. Shetland Wool Week really does have a diverse following! And, we'll be hitting the road again in the New Year, so here are some dates for your diaries.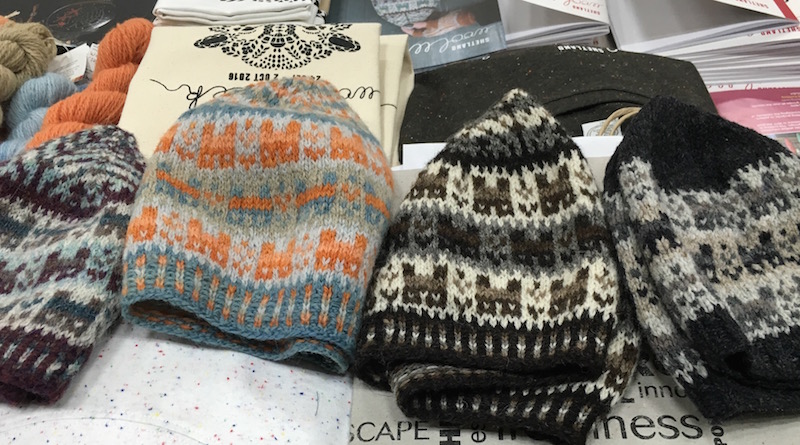 Having attended this very busy show last year, where we had such an incredible response and made so many contacts, we knew that we needed to exhibit again at VOGUEknitting Live textile and craft show New York, 13 – 15 January.
We'll be taking a stand and will be on hand to answer any questions, give details on SWW 2017 and chat about all things Shetland wool and knitting.
Take the opportunity to meet our SWW 2016 patron and knitwear designer, Ella Gordon and find out the inspiration behind the popular Crofthoose hat pattern. Also attending will be Dr Carol Christiansen, who is in charge of Shetland Museum's Textiles Collection, a recognised Collection of National Significance in Scotland. Carol has extensive knowledge of historical and archaeological textiles in Shetland and the Nordic countries.
If you're planning a trip to the show, please come and visit us. We'd love to see you there.
A must-have date for the diary is the popular international Yarn Festival in Edinburgh from 10 – 11 March.
As well as taking a stand, we'll be launching the official Shetland Wool Week 2017 hat pattern and also announcing this year's patron.
Printed copies of the pattern will be available too!
Hope to see you there!