Introducing the Bousta Beanie at EYF
Here's our woolly round up of Edinburgh Yarn Festival.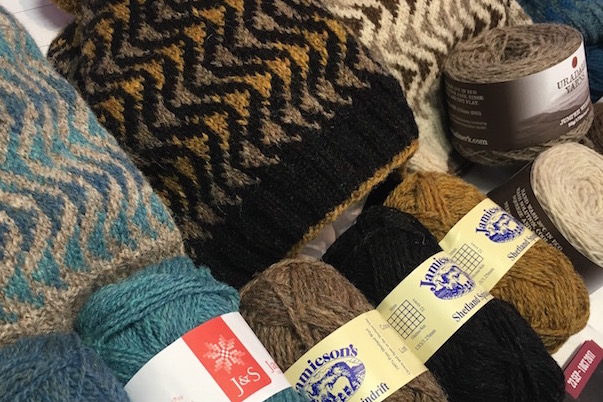 Anyone who has a love of yarn and textiles probably has a big red circle marked in their diary around the beginning of March – to highlight Edinburgh Yarn Festival – one of the biggest urban knitting festivals in the UK.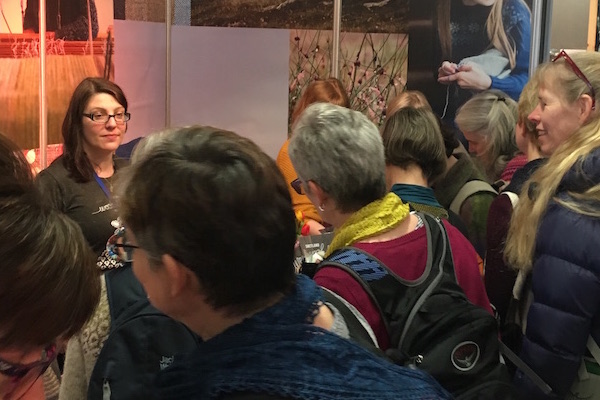 It's a big deal, attracting some 5000 visitors to the two-day market place, which is packed with vendors and knitwear designers from all over the world. It's also a key event for the Shetland Wool Week committee, as this is where we promote our own event and announce the new guest patron for the year together with the launch of the official hat.
EYF is a brilliant place to meet like-minded, yarn and knitting obsessed people from all over the world. It's impossible to leave without buying (another) stash of wool, a handful of buttons, a pattern or two.. and be inspired by the conversation and endless garments that vendors and visitors are wearing.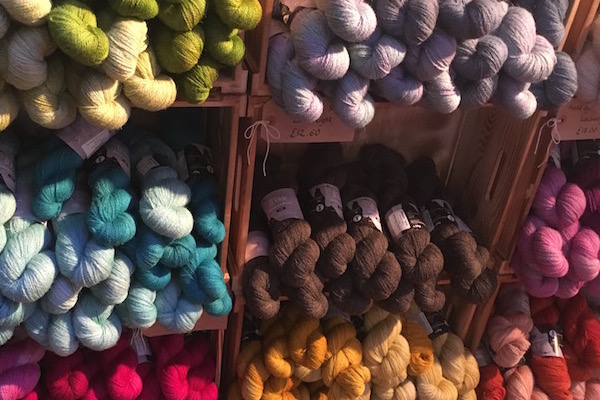 Before the event had even kicked off at Edinburgh's Corn Exchange there was already quite a buzz, with people wondering who would be stepping into Ella Gordon's shoes. All was eventually revealed via SWW's popular social media streams where we were delighted to announce Shetland-born knitwear designer, Gudrun Johnston, as this year's patron. The official hat, the slouchy-style 'Bousta Beanie', designed by Gudrun, was also launched.
Within minutes of the doors opening we had a steady stream of people wanting to meet with Gudrun, ask questions and take a copy of the free knitting pattern. The hat uses a variety of stunning colourways in Shetland yarns by Jamieson & Smith, Jamieson's of Shetland and Uradale Yarns.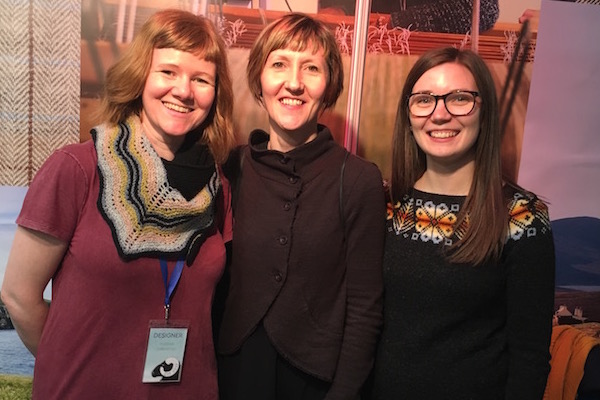 It was also clear from people's comments that  enthusiasm and interest for SWW continues to grow, with many people prepared to travel long distances to visit the islands.
For some, it is very much on the 'bucket list'. We loved meeting you all and answering your questions. It was also great to see SWW patrons past and present at the stand (Gudrun Johnston, Donna Smith and Ella Gordon).
This year there was a strong Shetland contingent with impressive stands from Jamieson's of Sandness, Uradale Farm, and Shetland Handspun.
The patron is an integral part of Wool Week and generates a lot of international interest. Gudrun Johnston is an enthusiastic ambassador for Shetland's textile industry, so she was a natural choice for the SWW committee.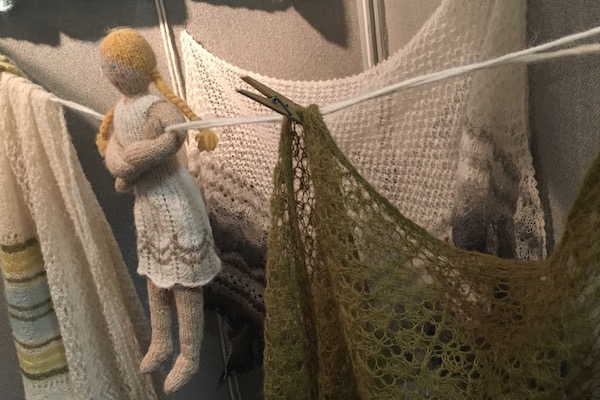 Gudrun was in high demand throughout the event and did a live podcast with Blacker Yarns. A frequent visitor to Shetland, she has attended every Wool Week since it started in 2010. Many of her designs feature Shetland patterns and yarns, and her Wool Week, Bousta Beanie hat design was inspired by the ever-changing shades of the Shetland landscape.  She wanted to reflect this in a simple Fair Isle pattern that floats between one background colour and two contrasting colours. The beauty of this approach is that it creates endless possibilities for colour combinations. In fact, Gudrun surprised us on the day by arriving with a fourth suggested colourway, which uses softer shades of blue. Her gorgeous combination uses J&S 2-ply jumper weight, Shade 2; FC 39MIX; FC34MIX.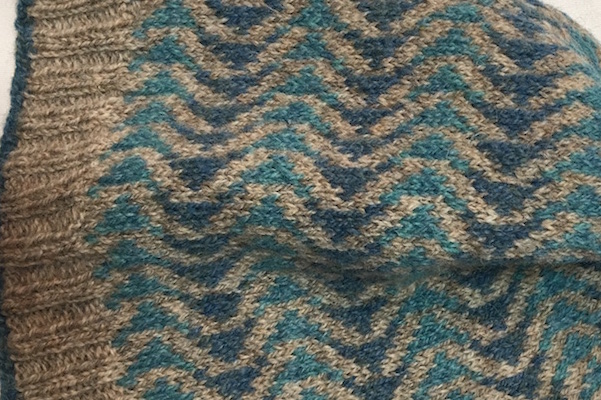 It was heartening to see such interest for SWW and the hat pattern at Edinburgh – we've been following everyone's progress on social media. We look forward to seeing more of your work– please do share pictures with us by hash tagging #boustabeanie or #shetlandwoolweek2017 !