March update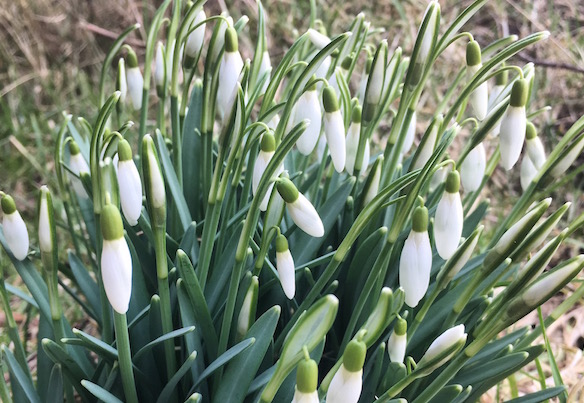 It's March and we are definitely still in the throes of winter here in Shetland. Despite enjoying a handful of brighter, warmer days which teased us with hints of spring, the 'Beast from the East' has caught up with us and the rest of the UK.
We're lucky though that despite the long dark days, there have been plenty of highlights to keep us going. Many will be familiar with Shetland's spectacular fire festival that falls on the last Tuesday of every January: Up Helly Aa.
Winter celebrations
This year the weather wasn't kind, but still the raven flags were hoisted high and the Jarl Squad started its long 24 hours celebrating Shetland's viking heritage.  Throughout the morning the Jarl Squad marched the streets of Lerwick, roaring, singing and showing off their incredible Viking costumes and galley 'Blaze Away', which had taken thousands of hours to craft.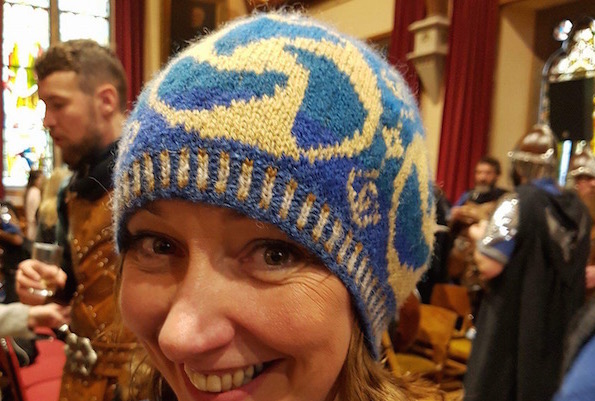 The Chief Guizer Jarl's wife wore an amazing cowl and hat, specially designed and hand-knitted by SWW tutor Janette Budge.
The real event came in the evening though, with around 1,000 men gathered in their 'squads', all dressed in weird and wonderful costumes, ready to begin the torchlit procession. UHA really is a spectacular sight and the heady smell of paraffin in the air is strangely comforting. The procession culminated, as always, with the burning of the galley. And from there it was off to the 'halls' for all night revelling until around 9.00am. Shetlanders know how to party! And all was eerily still the next day as schools and many offices closed for a Public Holiday.
With a further 11 UHAs taking place throughout the rest of Shetland, winter is actually a very busy and community-led season.
Crime drama: Shetland
Another highlight has been the welcome return of the popular BBC crime drama 'Shetland'. It's been encouraging to learn that the production company has been increasingly keen to showcase local knitwear.
So now, not only are we spending our time analysing every location and accent, we're also playing 'spot the Shetland knitwear'.
Detective Inspector Jimmy Perez can be seen in Wilma Malcolmson's (Shetland Designer) ganseys which are made from Jamieson's wool. If only he would take his pea jacket off more often so that we could see beyond his neck! And Quendale Designs (Hannah Nelson) provided scarves, head wraps and fingerless gloves too.
Plans for SWW 2018 programme gather pace
We're well underway with our programme for 2018. It does take some considerable time to coordinate all the events. As anyone who has experienced Shetland Wool Week knows, many of our events are run on a voluntary basis or by people who are adding it to their day jobs.
We are really working hard behind the scenes to put together a full and diverse programme to showcase the skills and expertise of Shetland tutors as well as some visiting international ones too.
Changes to SWW membership
We'll announce 2018 membership details in the next few weeks. This year membership will not include access to the 'opening ceremony' so there is no immediate rush to buy it.
Rather it will be set up more as a direct way of supporting the sustainability of the event as well as including some perks and goodies too.
The programme will be announced in late April/early May to all members and tickets will go on sale to everyone in mid-May. 
Edinburgh Yarn Festival
We'll be attending the Edinburgh Yarn Festival later this month. There's going to be a strong Shetland contingent with Jamieson's of Shetland, J&S, Uradale Yarns, and Shetland Handspun all taking stands.
We're very excited to also be announcing our new SWW patron as well as the 2018 hat pattern. Visit us at stand M1 and pick up your free pattern. We're handily situated close to the coffee and cake café… so no excuses not to come and say hello! For those not attending EYF the hat pattern will be available to download for free on the SWW website from 15 March.
'My day in stitches': Janette Budge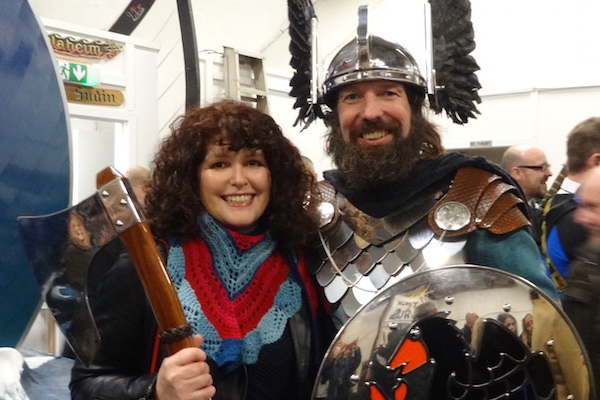 Some of you may have met Janette during previous Shetland Wool Weeks. She and her mum Jeannie Tulloch hold the popular 'Knit your own Fair Isle yoke bag' class.
Janette has lived in Shetland all her life, except for a brief working holiday in Australia in her early 20s. She grew up on the west side of Shetland but now lives in the south mainland close to St Ninian's Isle. Married, with two daughters, she's mostly a stay at home mum but volunteers for various groups and helps out on her niece's farm at lambing time, and knits.
She learned to knit when she was about six from her mum and also had knitting lessons at primary school a few years later as part of the curriculum.
We caught up with her to find out more about her love of knitting.
Why do you knit?
I love the creative challenge and making unique presents for people.
Where and when do you usually knit?
I try to take my knitting everywhere, waiting at children's activities, cafés, but usually at home in my sitting room with the peat fire on in the evening this time of year.
How does your perfect day shape up?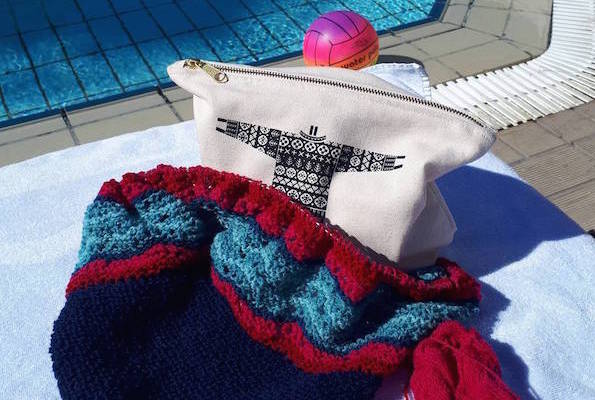 Well, I had a pretty perfect day on holiday in Cyprus last October. Lovely walk along a shore side path taking in all the morning sights and sounds, chatting to cats along the way followed by a scrumptious buffet breakfast in our 5 star hotel of fruit, pancakes, bacon, scrambled eggs and not forgetting the maple syrup!  A few relaxing rows on the shawl scarf I was knitting on our sunny balcony followed by an energetic burst of aqua aerobics.  After a quick dry off I settled back on my padded sun lounger by the pool with my audio book and my knitting: it was heaven.
What's on your needles right now?
A raspberry cowl for myself, inspired by Up Helly Aa, the colours that suit me and a swatch I made on a Vivian Hoxbro colour class at Shetland Wool Week back in 2014.  It was a fantastic day in the stunning location of Sumburgh Lighthouse.  It was a windy day with sea spray flying up the cliffs but this made it all the more dramatic and memorable.  Colour is my thing and to spend a whole day talking and swatching with colours was invigorating!
What's been your most challenging knitwear project to date?
Probably the hats and cowls I made for my cousin Elaine who was this year's Lerwick Guizer Jarl's wife.  She asked me to make several hats using the design on the men's Viking shields and the jewellery specially commissioned for the wives and girlfriends of the squad.  Working out motifs that are not symmetrical and having only worked out a couple of hat crowns before made it a little challenging but I enjoyed the process.
What inspires you?
Colour and practicality, last week I saw a poster at school and thought the colours would look lovely knitted together.  The practicality comes from what I've either been asked to make or what I'm needing at that time, like the cowl I'm making for myself. I would love to have something I can pull up over my chin or nose when I'm out for a walk on a cold day and for it to tone with my jacket.
Neutrals or colour?
Colour.
Do you get involved in local events or community groups?
Yes, I'm a volunteer head tutor for ShetlandPeerieMakkers at my daughters' school.  I'm a rower and help out at our rowing club events.  These are not your sliding seat type, these are based on a traditional Ness yoal used for fishing many moons ago.  We do have a cox, and six rowers with one oar each.  I bake and help out at Sunday Teas when needed for various groups that I or my children are involved in.  It's a great way for community organisations to raise much needed funds.  I volunteer when I can at the Shetland Textile Museum in Lerwick, I love meeting all the visitors and it's great to have the excuse to speak about knitting all day.  I'm a member of the Shetland Guild of spinners, weavers, knitters and dyers and have learned a lot from the other members and visiting speakers, plus it's great to be in the company of like-minded people.  And, of course, Shetland Wool Week, which is one of the highlights of my year. I am so fortunate to have such a long wool related festival on my doorstep.  Many wool festivals are only a few days but ours lasts a full 9 days and there's still knitters around before and after the programmed days.  I teach classes with my mum, and volunteer at The Hub plus go to as many other events and classes as time allows.
Favourite Shetland dialect word and why?
Paes-wisp; – means a tangle of threads or lines.  For me it just sounds so descriptive and is usually said with a bit of expression.
Sometimes my knitting bag can get in a bit of a paes-wisp with all the colours I carry around with me.  "Hits geen in a paes-wisp upo me"  It's gone in a tangle on me.
What's your favourite thing about Shetland?
That's a hard one. I could say fried reestit mutton, gardening at 11pm on a sunny night in June or family trips to Unstfest, but I would probably have to say community spirit, whether it's through the many Up Helly Aas, sports clubs, ShetlandPeerirMakkers.
Things happen in Shetland because of the community spirit and the openness to work together: the camaraderie, the enjoyment of working together in some way for the greater good of the community.  This then leads to other individual acts of kindness to the friends you have made, like picking up something from town to save them a special trip or lending them your lawn mower when theirs has broken down.
"Da giean haand is aye gittin"
A kindly and generous person is usually treated well by her neighbours.