Shetland Wool Week Annual 2016
Last year's Shetland Wool Week Annual was an instant sell-out, and this year's edition, packed with exclusive patterns, fascinating essays, interviews with top knitters and glorious photography, is set to be a huge hit too.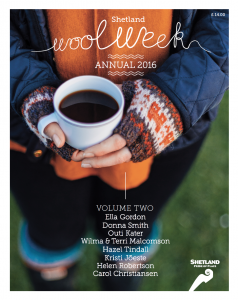 Among the full patterns provided, along with profiles of the designers, are Shetland Wool Week Patron Ella Gordon's spectacular Crofthoose Hat and Crofthoose Mitts; Donna Smith's beautiful Shetland lace Sanik Shawl; Outi Kater's Fair Isle Snaefrid Legwarmers; Wilma and Terri Malcolmson's Da Hölmin hat and a classic Brogash cardigan from Hazel Tindall.
Also provided are patterns for Kristi Jöeste's Muhu Fly Gloves, Carol Christiansen's Küttikins slipper socks, Marian B Leslie's Sleeveless Spencer and a design for Helen Robertson's Light Up Your Lace Jar Lantern.
Essays include Donna Smith on the phenomenon of the makkin belt, Tom Kidd's fabulous photographs of 1970s Fair Isle gansies, Roslyn Chapman on the infamous Truck and Barter system of paying knitters, and the amazing story of how Shetland knitwear conquered Everest.
Extraordinary illustrations, a selection of book reviews and some personal insights into the lives of the isles' top knitters: The Shetland Wool Week Annual 2016 is available at £14, but get your copy quickly: it's bound to be in short supply.
You can order your copy here.