Shetland's next generation of knitters
Donna Smith meets regularly with a group of young knitters from the Anderson High School. Here she explains how the group came about and what they've been up to.
Every Thursday at lunchtime during school term, a group of youngsters meet in one of the biology classrooms at the Anderson High School in Lerwick to knit.  The group consists of pupils, ranging from 12 to 18 years old, and school staff, and attracts a range of individuals from those who have never knitted before to those who have been knitting for several years and are expertly designing and knitting their own Fair isle garments.  This group is known as the Anderson High School Maakin and Yakkin (knitting and talking) group.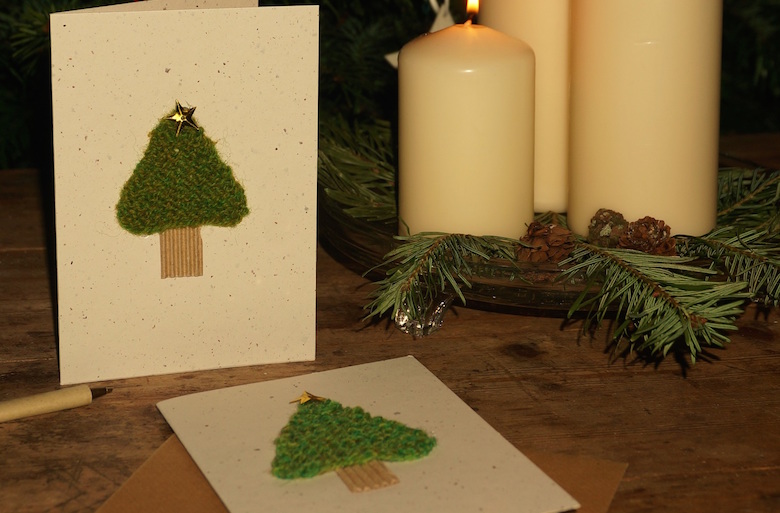 Over the past few weeks the group have been busy knitting garter stitch triangles (this has helped them practise casting on and decreasing) which were then transformed into Christmas cards to raise money for the school funds during a mass production line over a couple of lunchtimes.  Last Saturday I spent a very enjoyable morning at AHS Christmas Coffee Morning helping out at the Maakin and Yaakin stand and needless to say, the cards featuring the hand knitted trees proved to be very popular.  Pupils and staff also gathered in the 'Knitters Neuk' to spend time knitting and were joined by many members of the public who had come for their morning coffee and to browse the many stands in the school hall.
The lunchtime Maakin and Yakkin sessions were started in February 2013 by biology teacher, Caroline Simpson, a keen knitter who thought that it would be a good way to bring pupils and teachers together with a common interest, while introducing knitting to those who were less experienced.  I work as a science technician at the Anderson High School and go along to the group whenever I can.  It is so good to see so many youngsters knitting and it is really good to see someone progress from never having knitted a stitch before to knitting Fair Isle.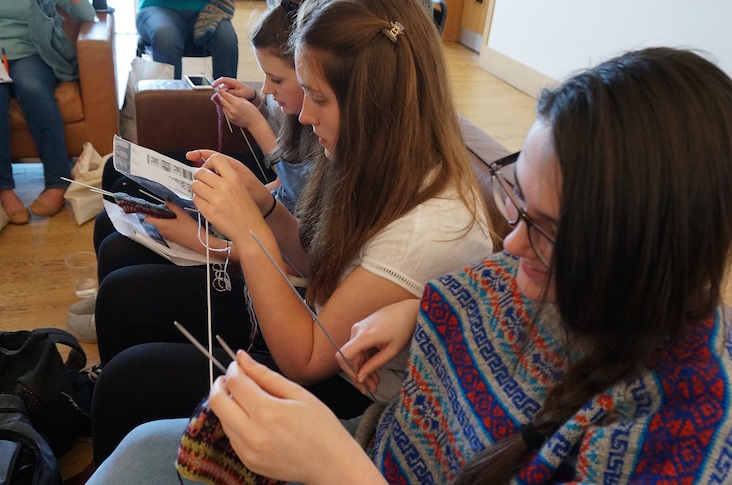 The group is part of the Peerie Makkers scheme, a two-year pilot scheme that encourages and enables skilled volunteers to teach traditional knitting methods to pupils in several schools around Shetland.  When I was in Primary school, we all got knitting lessons, but several years ago these classes were stopped due to lack of funding.  I remember at the time being horrified that this had happened and even wrote a letter to one of the local councillors, something that is not usually in my nature!  However, through the Peerie Makkers scheme, and the enthusiasm of several volunteers things are definitely looking up and we are seeing pupils attending these knitting sessions because they want to rather than because they have to which can only be a positive thing.   We are even hearing stories of the pupils getting their mothers interested in knitting which is fantastic!
The Anderson High School Maakin and Yakkin group have been involved in several things and projects and have attended other knitting events and groups.  In 2013 they made hats and tunics for babies in Malawi in conjunction with UNICEF, they have attended several events at Shetland Wool Week and this year several of the group members modelled their own work at the fashion show during the opening ceremony at the Clickimin Centre.  I am very sure these are the people to look out for during future Wool Weeks!
You can read more about the Maakin and Yakkin group on their new blog.
You can read more about the Peerie Maakers here