Summer agricultural shows
Shetland Agricultural Shows
Summer in Shetland always means the fabulous agricultural shows. These offer so much to the community and visitors – and are also an opportunity to showcase livestock, knitwear, baking, horticulture, arts and crafts, stalls, kittens, ducks, dyed yellow sheep:  you name it, it's likely to be there!
Hazel Tindall visited all the big shows: in Voes, Cunningsburgh and Walls. Here are some of her highlights.
Cunningsburgh – Alyssa Malcolmson is young enough to enter in the 12-16 age group and is a deserved trophy winner with this beautiful jumper. The scalloped edging is, I think, unique, and the patterns in the rib remind me of the work of Pearl Johnson and the late Anna Bell Bray.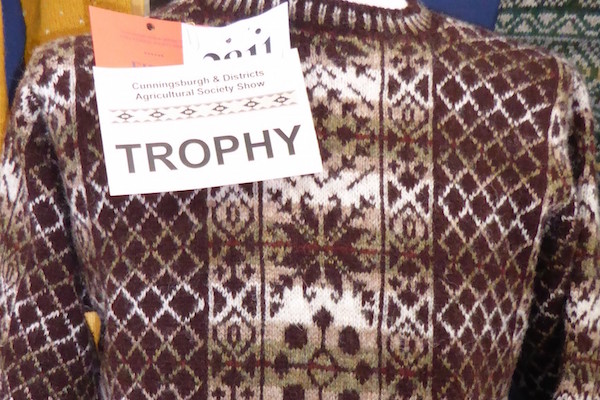 Voe – Ruby Williamson's cardigan in Jamieson & Smith's Colourbox category (J & S choose eight colours and competitors have to use at least five) deservedly won the trophy. Her use of colour, as always, is exquisite and the cardigan is beautifully knitted and finished.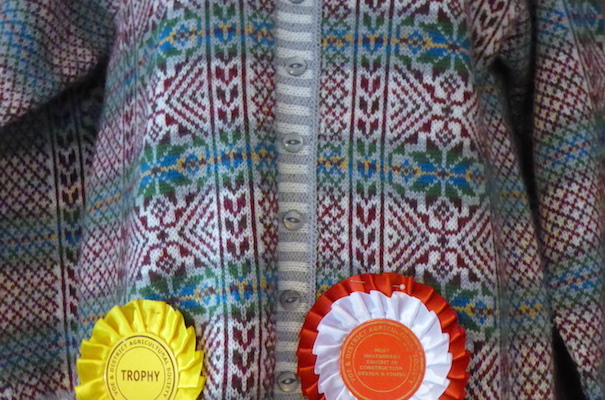 Walls – I was in sole charge of two young grandsons so saw things at the show I would normally have walked past (tractors and trikes mostly) and didn't spend as much time in the hosiery section as I would have liked.
The Scarecrow is wearing lovely gloves but the knitting is not quite of show standard.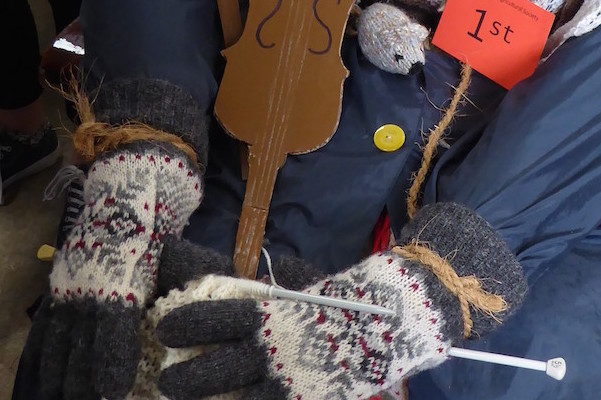 Kathleen Anderson's black lace shawl was another deserved trophy winner; earlier in the summer it won prizes at the Royal Highland Show.