Swedish two-end knitting
Shetland Museum's Textile Curator Carol Christiansen tells us about knitting in the north of Sweden and the work of accomplished visiting SWW tutor Karin Kahnlund.
Last Saturday the Shetland Guild of Spinners, Weavers, Dyers and Knitters gathered at the Shetland Textile Museum for their monthly meeting.  We were treated to an interesting talk by Brita Hövenmark, STM's custodian, about knitting in the north of Sweden, including tvåändsstickning, or two-end knitting (sometimes called twined knitting).  Brita knows a lot about the knitting traditions from her homeland and is herself an accomplished designer and knitter of this technique.  She showed us gloves and mittens she had made, the fabric dense and warm.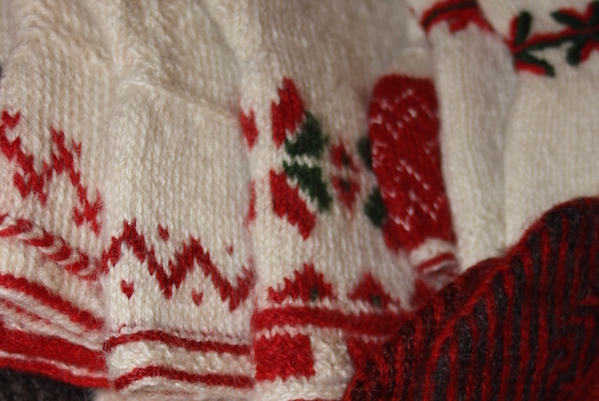 It was Brita who introduced me to the work of Karin Kahnlund, the accomplished Swedish knitwear designer, who is inspired by historical knitted and woven fabrics from Sweden.  Karin is one of the foremost practitioners of two-end knitting and we are pleased she is bringing her knowledge to Shetland Wool Week.  Two-end knitting is usually made in to mittens or gloves in a single colour.  Karin will show how to incorporate small areas of colour, commonly used to decorate cuffs of mittens.  What a wonderful thing to learn as we head into the dark winter months and the holiday season!  There are still a few  places available to her Advanced Two-end Knitting in Colour class.