SWW 2017 round up
We can't believe it's a month since Shetland Wool Week 2017 ended. What an amazing, inspiring, creative and wonderful nine days it was! We're still buzzing.
Having had a break to recover from the adrenalin surge it's lovely to be able to look back at the photographs, swap stories, read your social media feeds and all your comments.
As always, we are staggered by how far people will travel for SWW, and this year was no exception. The visitors' map, where everyone is invited to pin where they travelled from was a great indicator, with marks on Australia, Canada, the East and West coasts of USA, Scandinavia, Europe, Israel and the UK.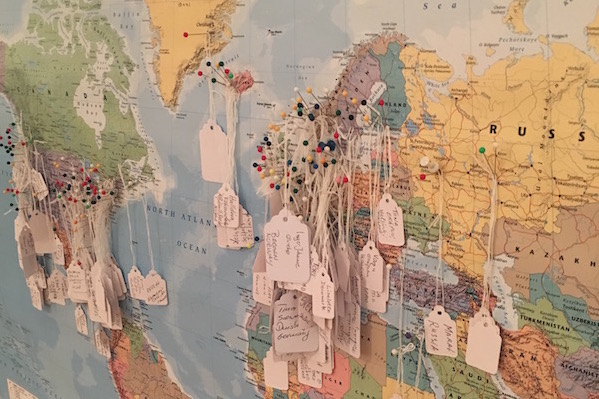 SWW 2017 was our biggest festival yet and we estimate that around 600 people attended a huge range of activities which took place the length and breadth of the islands. Many stayed the entire nine days, and beyond, so that they could really soak up the atmosphere.
Shetland may be small but we're resourceful and we hope that we were able to offer something for everyone, from classes, tours, talks, drop ins, exhibitions, community events, demonstrations and a dance. The SWW events are located throughout the isles and to some it can seem a little overwhelming working out how to get around. And that's when it is so heartening to see a real sense of community spirit emerge between attendees, with people sharing their knowledge, offering lifts – so that somehow it all gets figured out. As someone so rightly said, 'it's all part of the adventure'.
So here are just some of our highlights of 2017.
The event kicked off with people coming along to the Hub at the Shetland Museum and Archives to collect their membership bags, ask questions and just get a general feel for the islands, especially if this was their first visit. Alex Boak's photographic exhibition 'People who touch wool' also presented the many faces behind Shetland's woollen industry.
The SWW 2017 merchandise was also on sale in the foyer area.
With a full programme, classes began right away on the Saturday, whilst the opening ceremony on the Sunday evening signified the official start of the eighth SWW.  This year we welcomed around 350 guests, who had the chance to mingle, enjoy a drink and sample some local Shetland food. The evening was compered by BBC radio producer and musician Claire White and we listened to music from Shetland trad band Vair, various speeches, including patron, Gudrun Johnston; and watched the SWW Fashion Show featuring a wide range of designs including a kimono and a lace garment for men. It was also amazing to see so many Bousta Beanies in one place!
And then the week was well and truly underway. The workshops are of course core to the festival and this year offered a wide choice of skills and techniques, from spinning, dyeing, many types of knitting, and weaving to making accessories for wool-working such as shawl pins and silver jumper pendants.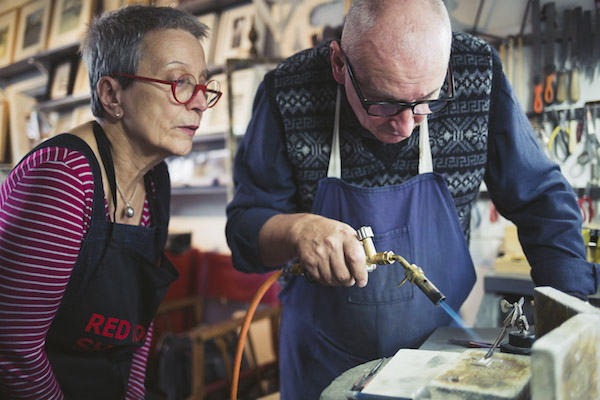 The tutors came from a variety of backgrounds both within Shetland and beyond and we are grateful to them for so generously sharing their experience and skills. It was lovely to include classes with past SWW patrons, Felicity Ford, Hazel Tindall, Donna Smith, as well as Gudrun. Our visiting tutors included Julia Billings who ran classes on dyeing and fisherman's knits; the Icelandic Ladies from Thingborg with their Lopi and Icelandic Shawl workshops; Nancy Marchant shared her extensive brioche wisdom; Amy Detjen took away the fear of knitting with two colours; and Karin Kahnlund ran advanced classes in knitting traditions in Sweden.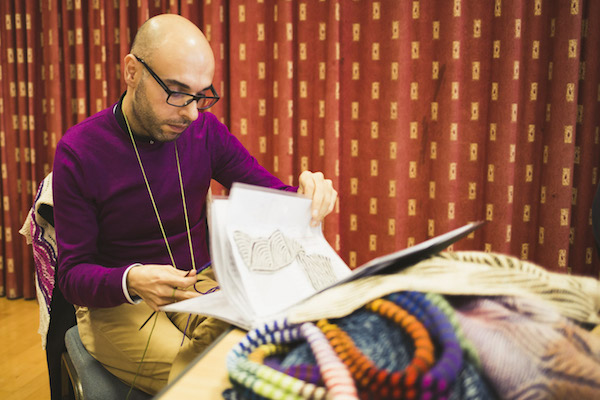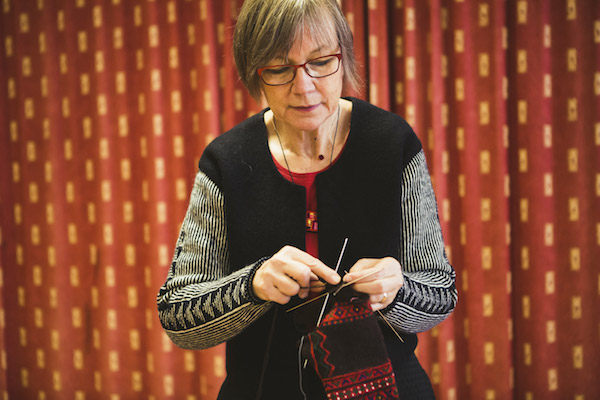 There were almost daily tours throughout the week too which gave people the opportunity to listen to the experts whilst taking in the scenery of the impressive islands.
Crofting visits are always in demand and there were tours to Bressay with crofter Chris Dyer, and also to Ronnie Eunson's organic farm Uradale throughout the week.
Hoswick Wool Week, organized by Niela Kara and Elizabeth Johnston  – a mini Wool Week in itself – was incredibly busy with an amazing variety of classes running from day to night with a wide range of tutors.
And a trip to SWW is not complete with a visit to family-owned Jamieson's in Sandness to see Shetland's only commercial woollen mill. As always, visitors came away with vivid memories and stories, as well as overflowing bags of yarn.
Jamieson and Smith Wool Brokers in Lerwick were extremely busy. They ran a number of classes and drop-in events, as well as keeping their yarn shop fully stocked (no mean feat during SWW) and Oliver Henry did his wonderful Shetland fleece sorting demonstration.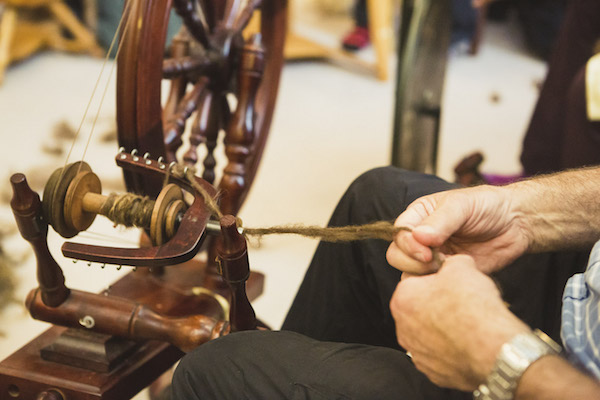 This year the Flock Book fell outside of SWW so J&S, in association with Vispring, hosted a day at Gremista Farm bringing together sheep, food and farmers.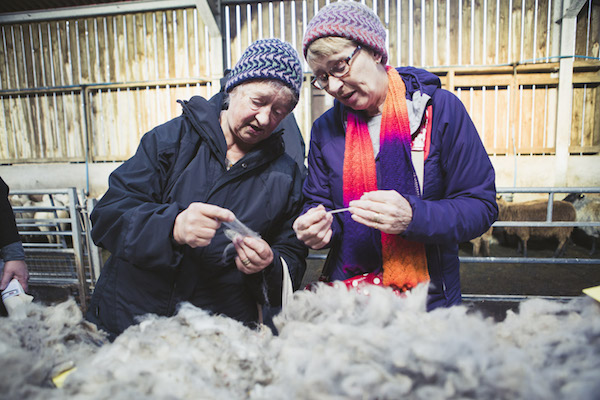 While Shetland Wool Week has always been about wool, we have been surprised and delighted that so many participants are thirsty for information about Shetland's cultural heritage too. The community museums and groups played a crucial role in SWW and it was wonderful to see the range of open days, demonstrations and exhibitions open to everyone, taking place in community halls, such as Ollaberry, Whalsay, Unst and Yell. The Scandinavian Boundweave demonstrations using ShetlandOrganics Natural coloured yarns were also impressive.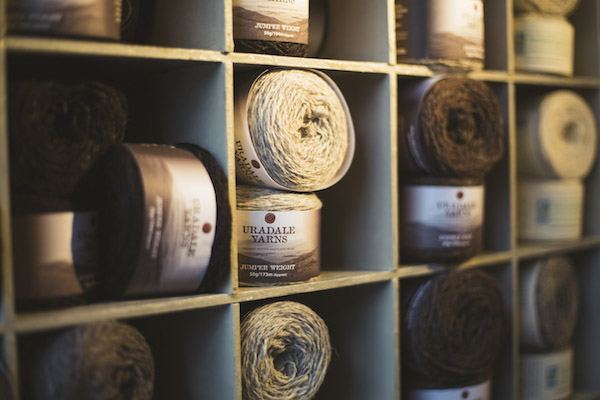 The SWW talks are now becoming something of an institution. It was fascinating hearing about Gudrun Johnston's knitting roots on the westside of Shetland and how she has carved out a successful knitwear design business. Internationally renowned knitwear designers Marie Wallin and Di Gilpin also gave a wonderful, informal insight into their careers and designs and it was encouraging to hear Di endorse the textiles undergraduate course at Shetland College UHI as the "best in the UK". The Ladies from Thingborg were a blast and their poetic description of Icelandic sheep and wool was captivating.
And at the centre of it all was the Hub where people could relax, chat, knit, ask questions, check out the noticeboard, and enjoy a cuppa. SWW can be very busy at times, but this place provided a focus and sense of calm, and we were thrilled to see so many people use it throughout the week.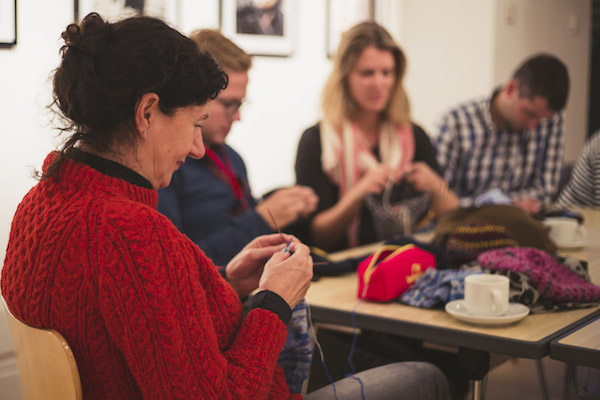 As always, we would like to thank everyone who joined us this year, but also those who support SWW all year round. We love receiving your emails and comments and keeping abreast of your latest projects. To us, Shetland Wool Week really does mean community.
We'd also like to give a special mention to Fruity Knitting Podcast who attended SWW. They recorded eight interviews as well as capturing some great footage throughout the week.
Check out Episodes 39 & 40, which include interviews with Hazel Tindall, Dr Carol Christiansen, Elizabeth Johnston; Donna Smith, and a short tour of Jamieson and Smith.
Links can be found here
And finally, huge thanks to all the volunteers and tutors for their expertise, warmth and generosity and for helping us pull it all together.
And now we turn ourselves to future plans …
Dates for SWW 2018 are 22 – 30 September. Watch this space!