SWW Annual Volume Four: Available to pre-order!
The long wait is over and we're delighted to announce that the Shetland Wool Week Annual Volume Four (2018) is now available to pre order!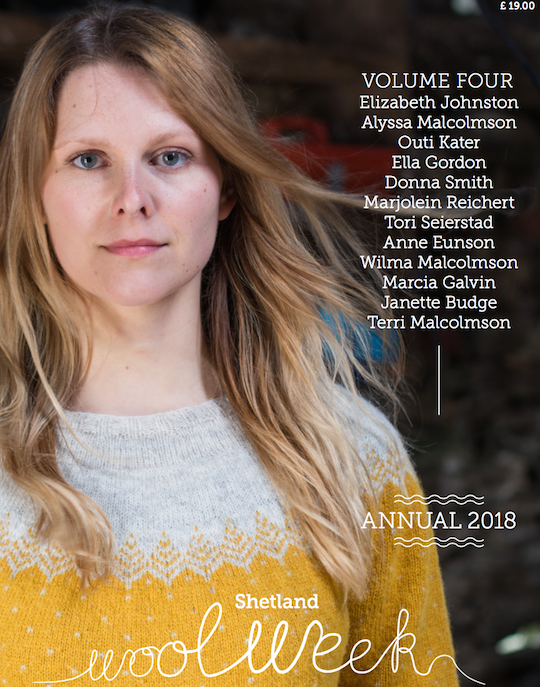 It's packed with exclusive patterns and fascinating essays, against a backdrop of glorious photography which captures Shetland's rich and varied crofting landscape.
There are 13 patterns, which include:
SWW 2018 Patron Elizabeth Johnston's Merrie Dancers Toorie
Alyssa Malcolmson's Tree Yoke Jumper
Outi Kater's Antidote Mittens
Ella Gordon's Einar Hat
Donna Smith's Foula Snood
Marjolein Reichert's Kliek Vest Cardigan
Tori Seierstad's Skalavag Mittens
Anne Eunson's Lunna Fingerless Mitts
Wilma Malcolmson's Atlantic Lace Hat and Fingerless Gloves
Marcia Galvin's Autumn Fingerless Mitts
Janette Budge's Clickimin Cowl
Terri Malcolmson's Banksflooer Mitts
Essays include Douglas Sinclair's insight into the lives of the women who worked at the Gutting during Lerwick's Herring Boom; Laurie Goodlad explores The Crofthouse Museum and uncovers what life was like in Shetland 150 years ago; Dorota Rychlik gives her personal account of rearing organic native Shetland sheep on the island of Vaila; an update on the Peerie Makkers Project; and Niela Nell Kalra shares her excitement about a creative project between young Shetland designers and the V&A Dundee.
Huge thanks to Alex Boak for the photography and part-time crofter and musician, Astryd Jamieson for modelling.
Priced at £19 it can be pre-ordered here.
Arrange to collect it at the Hub (located at Shetland Museum and Archives) during Shetland Wool Week or have it delivered to your home.