SWW Ticket Sales Information
We're on the countdown to the Shetland Wool Week 2018 programme official launch date and the opening of ticket sales.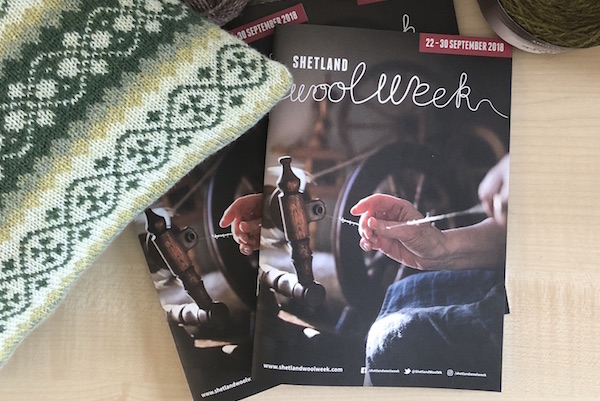 The Little Box Office opens on Sat 19 May at 10.00am (BST). The website can be found at www.thelittleboxoffice.com/shetlandwoolweek
Please DO NOT access the site between 9.55am – 10.00am BST on Saturday.
This is for two important reasons:
There will be nothing to see or buy
It will cause you issues when trying to see the events and buy tickets after 10.00am BST.
Leave it for a little while and go to the site after 10.00am.
Tickets
For most events you can buy up to two tickets at one time. For larger events, such as talks and tours you can buy four.
You do not need to be a SWW 2018 member to buy a ticket.
Once a ticket is selected it will be held in your basket for 30 minutes to allow you to add other items and check-out without rushing. The only way you would lose out is if your computer times out, or if you don't check out within the half hour.
Tickets will be sent by email to the person making the purchase and not to individual email accounts on request. Please remember to check junk mail.
There is no waiting list for tickets. We advise you look at the SWW facebook forum page instead as this is where people tend to swap and sell tickets.
Payment
In order to book tickets you will need a credit card (Visa, MasterCard or American Express) or debit card.
There will be a booking fee of £1.50 added to your basket at the end.
Detailed information on events
From Saturday, full information, such as detailed tour itineraries, materials required, homework etc can be found on the main website www.shetlandwoolweek.com
You can also book your tickets through the main website. Simply search for your class and click on 'Book Tickets' which will take you through to the corresponding event on the Little Box Office.
Searching for events
On the Little Box Office the events are listed in chronological order or by the following categories:
Exhibitions/Open Days/Studios
Workshops
Talks/Shows/Drop Ins
Tours
 If you would like to search by keyword, you can use the following function on a desktop computer:
Mac: ⌘ Cmd + F
Windows: Ctrl + F
Printed copies of the programme
We're delighted to be able to offer you a printed copied of the programme. This is available to order from the online shop. It is FREE, except for post and package.
Technical issues – some hints and tips
Don't visit the Little Box Office between 9.55am-10.00am BST on Saturday.There is no need to pre-register your details, you just need to use the site as you would any other online shopping website.
If the site is not working as you'd expect then you should try another browser, such as Google Chrome, Firefox, Safari, Internet Explorer and Microsoft Edge.
If you are not getting to the site after repeated attempts and using two browsers then PAUSE – make yourself a cup of tea and type this into your browser: "How to clear your cacheon Chrome, Safari and Firefox, Explorer, Edge" and follow the instructions for your browser before trying the Box Office again. You can 'force refresh' your browser by pressing the following keys on your keyboard. Please note that 'force refreshing' cache is a lot easier on a computer than it is on a phone or Windows/Linux: Ctrl + F5; Mac: ⌘ Cmd + R.
If all else fails then call us on +44 (0)1595 922 710 and we will take care of your booking.
It's going to be a busy Saturday (and there's a Royal Wedding to fit in, too) but please don't panic if you're unable to book your first choice of workshop. There is plenty going on throughout the nine days, and in fact we would encourage you to leave plenty of space in your schedule so that you get the chance to see the islands, go to the many drop-in events, attend a few evening talks, meet new friends … and relax.
Please do get in touch with us if you have any queries, but bear in mind we are a very small team!
The telephone number for Saturday is +44 (0)1595 922 710.
We're really looking forward to seeing you all in September.